Listen to this post
Sunday, September 18, 2022. Arose at 6 a.m. again and took another photo from the bow of the Wilderness Discoverer. We visit Traitors Cove in the morning and Ketchikan in the late afternoon. We decided on another "eco meander" at Traitors Cove this morning. Personally, I like the pace of these tours and the ability to take numerous photos and examine the habitat closely. There are so many things to see (if one takes the time). After breakfast, we left with Callie (one of our guides) on an eco meander.
Here are some photos of what the tidal flat and forest looked like that morning. For those who are curious, Traitors Cove was named by Captain Vancouver in 1793 "on account of trouble with the Indians."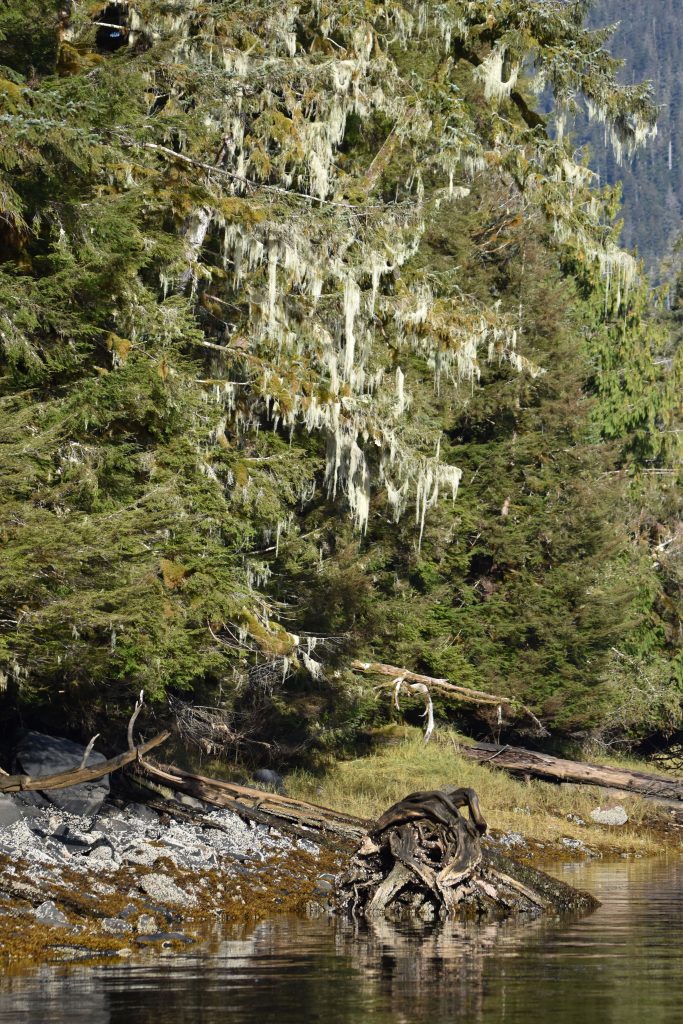 We walked along the tidal flat and explored a small stream a bit into the forest. This area is only accessible by float plane or boat. Here is what the stream looked like.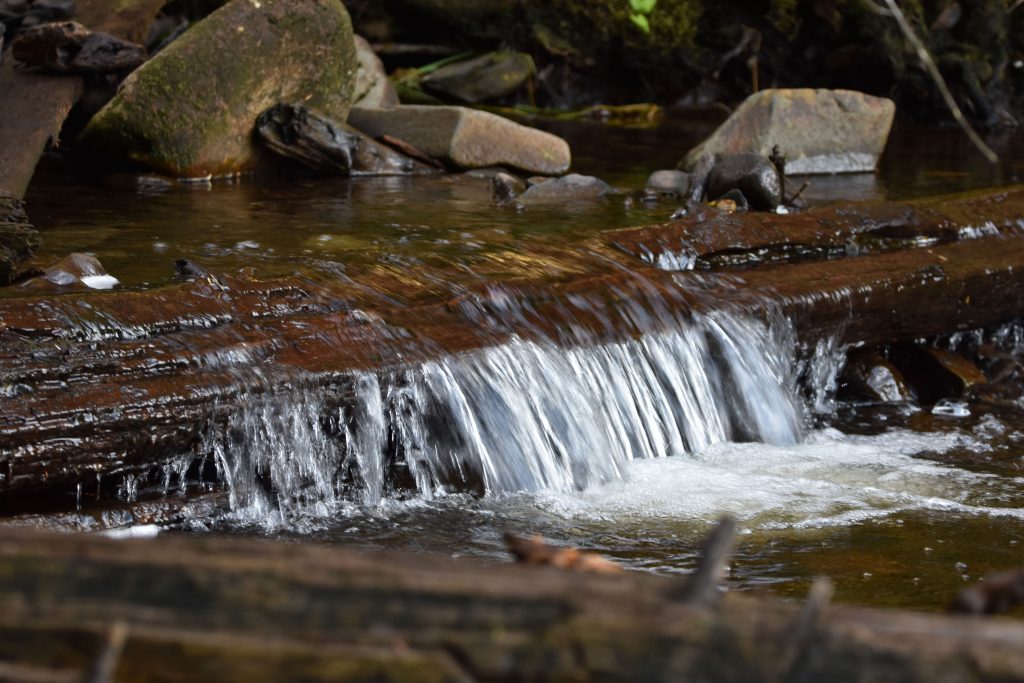 I also took a 360 degree view of the area with my Theta camera. Here is the photo.
Another start of an "eco meander" at Traitors Cove (NE of Behm Canal) near Ketchikan, AK. September 18, 2022. #SEAK22WD This cove was named by Captain Vancouver (Royal Navy) in 1793. #theta360 – Spherical Image – RICOH THETA
While we were on the tour, we learned some more. For example, the acorn barnacle has largest penis to body size ratio in animal kingdom – over 5 times the length of body. In rough waters, this is less as it can break off. Since barnacles are sedentary once they attach, this makes sense.
We also learned about using our hand to remember the 5 species of Alaskan salmon in the area. Specifically:
Use your thumb for chum salmon,
Use your index finger for red salmon (also known as sockeye),
Use your middle finger for King salmon (also chinook – the biggest species and most preferred),
Use your ring finger for coho (silver salmon), and
Use your pinky finger for humpy salmon.
We were reminded there is a book on board called "Salmon in the Trees." This reference means that their nutrients feed the forest. Bears eat only part (usually eggs and brains) and leave the rest to decay. The forest benefits from all the added nutrients.
We visited Ketchikan in late afternoon. This city is located on Revillagigedo Island. According to the book "Roadside Geology of Alaska," page 70, residents grew weary of all the vertical relief in the area and relocated some rocks to make more level spaces for the city. Here is a view (from our ship) of part of Ketchikan with evidence of rock movement by locals.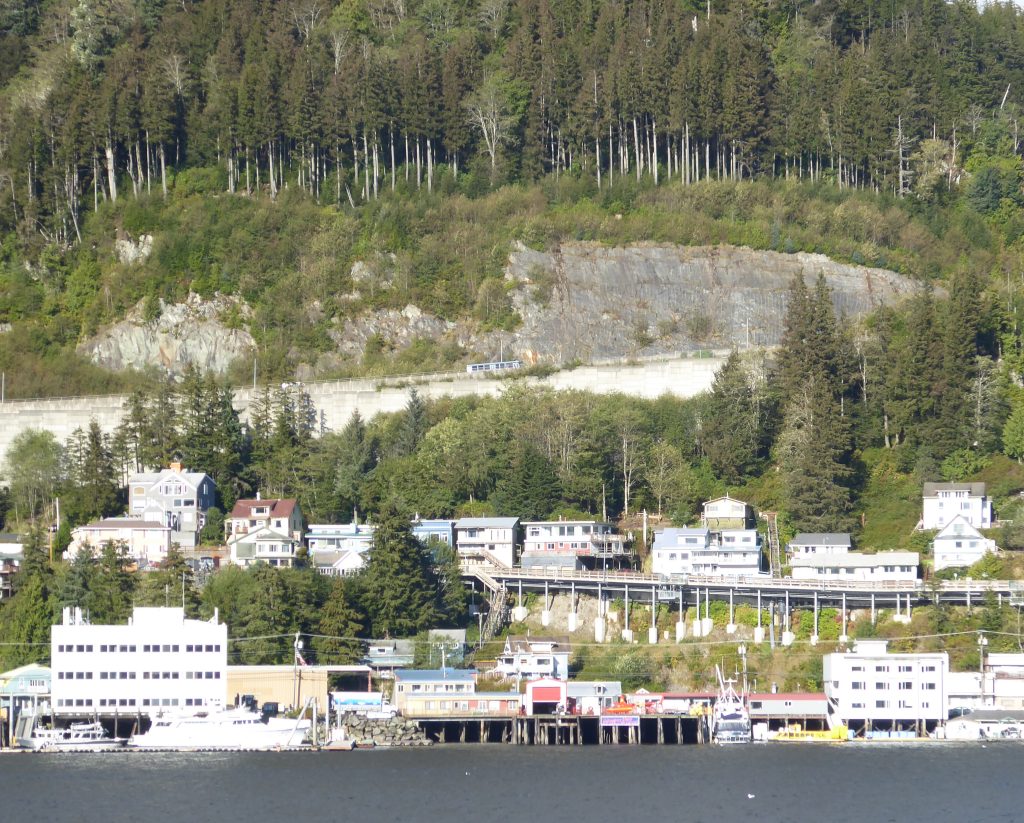 Part of the city is accessed via a tunnel through one of the hills. This is the Front Street tunnel.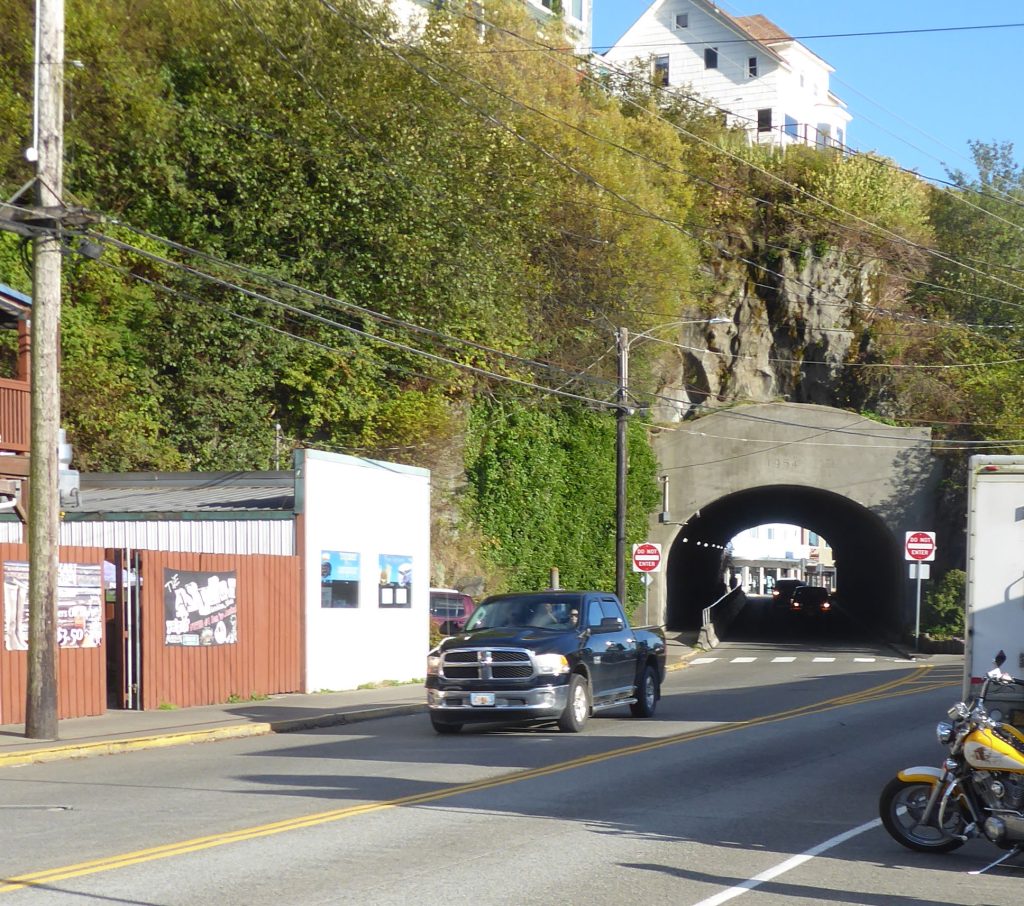 Coho Soho was a t-shirt shop the crew recommended. Since it was Sunday, the store was closed. Actually most stores were closed. Entire town seemed to close at 5 p.m. (about the time we left the ship). Here are a few photos of the area around Creek Street (and the creek itself).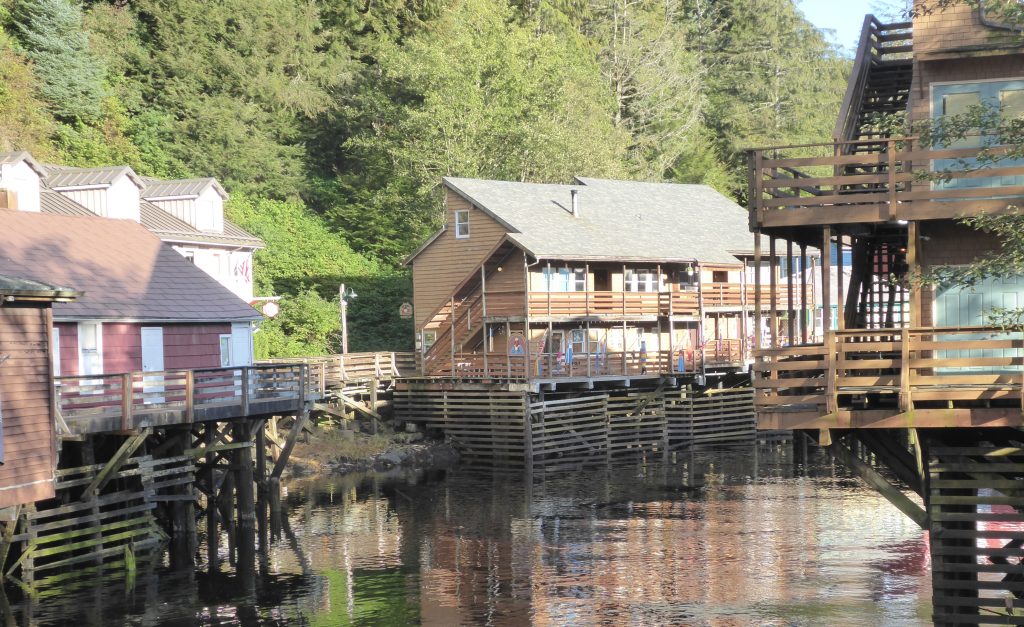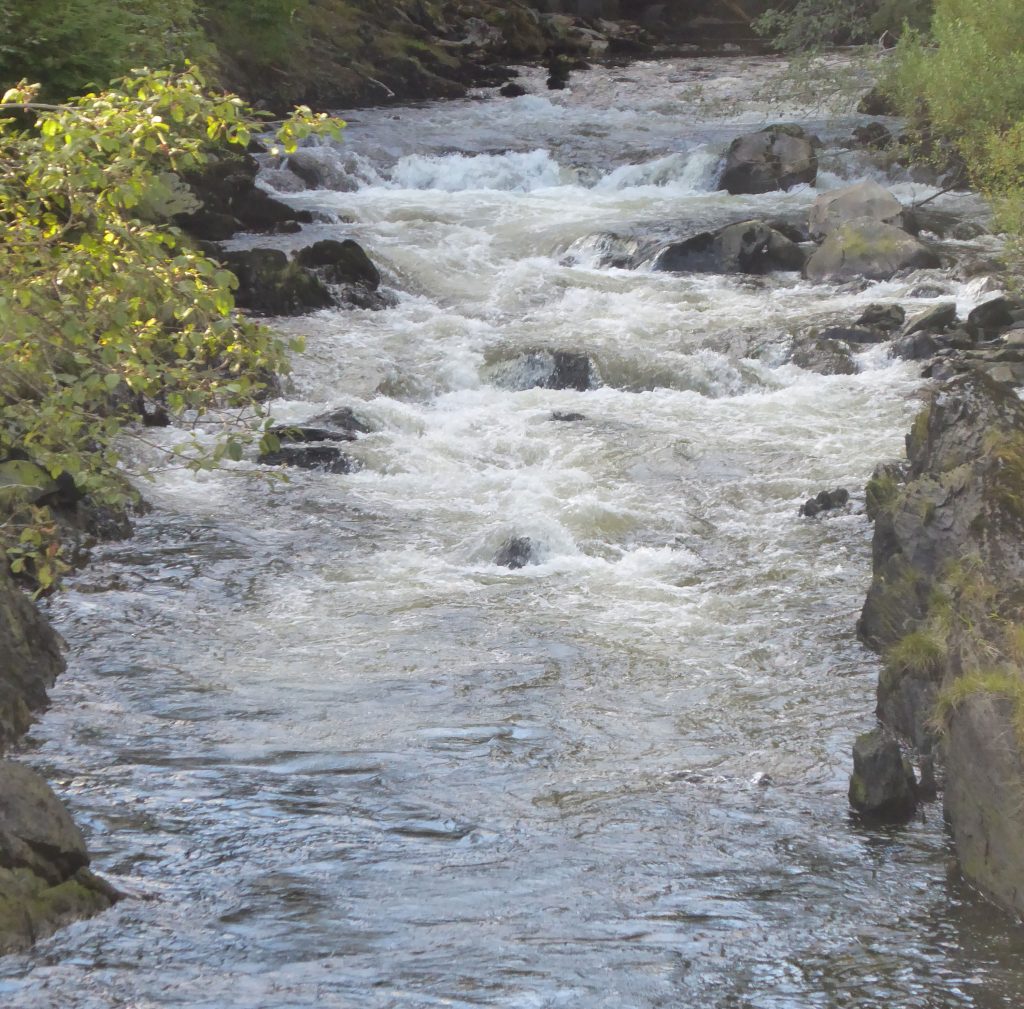 We walked past a number of totem poles in the city. Here is one with the name "The raven stealing the sun."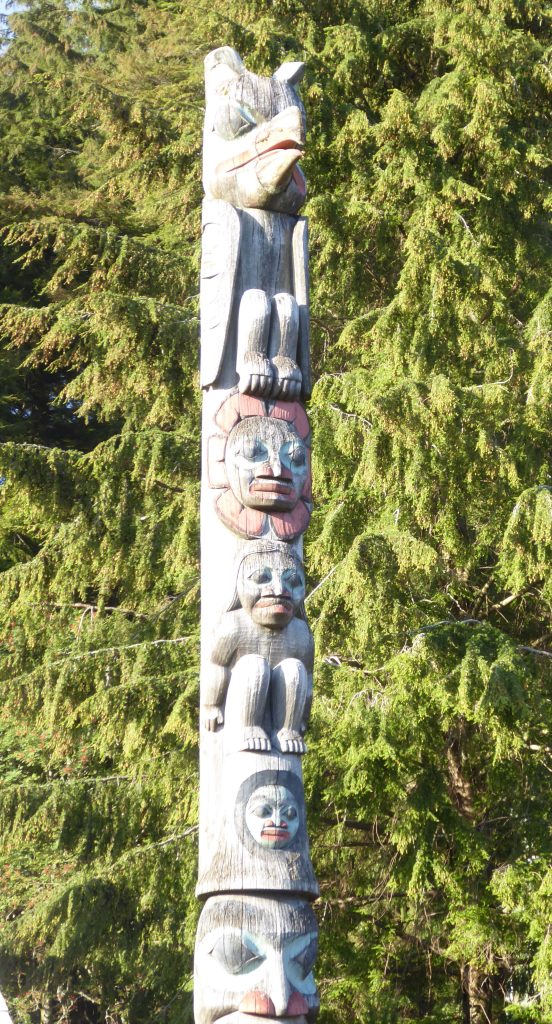 I also liked some of the murals along the sidewalks in the city.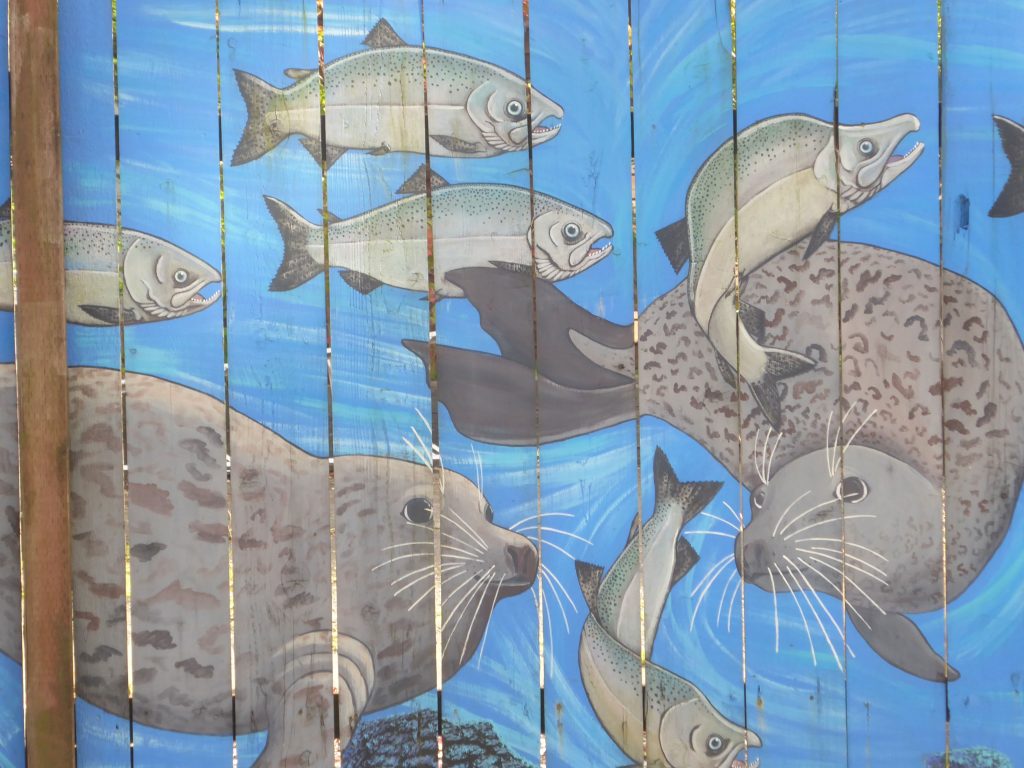 We returned to the ship in time to sample Frank's drink of the day – Ketch Koffee – made with Baily's Irish Cream, Kaluha, and a splash of coffee.
We had a special visitor to the ship, Chief Joe Williams spoke about his people. He was born in Ketchikan 79 years ago. His Tlingit name is Kaw Kish Ka.
Tlingit tribal lands range from roughly 2 miles south of Ketchikan north past Juneau; from Canada to the sea.
Women rule the society. They own everything. There are two groups – Eagle and Raven. One must marry into the opposite group. There must be at least one boy and one girl in each family. At age 2, the child is placed with either an aunt or uncle (boy with uncle, girl with aunt). The child refers to parents as brother and sister.
Conditional love is provided by the aunt or uncle. If one is a parent and asks the child to cut wood (and they don't), unconditional love means they are coddled more. When an aunt or uncle asks this, the child doesn't eat until the wood is cut (or what ever the chore is). Marriages are arranged. The mother's decision is final. There was no divorce. Because the mother would need to admit they were wrong in front of the whole tribe. When Presbyterian missionaries arrived, they gave everyone English names.
In Tlingit culture, a child is given their name at age 2. Their oldest aunt decides the name. Their aunt/ uncle teaches the child how to survive the winter. Side note – their English name is what is presently on their driver's license.
The name Kaw Kish Ka means dirty mouth. When an eagle eats, it gets its beak dirty with food scraps. What hangs from its beak is called Kaw Kish Ka.
33 clans make up the Tlingit nation. Eagle and Raven. These are further subdivided into Halibut group (2.5 miles south of Ketchikan). Brown Bear group lives in Ketchikan area.
Name tells others who they are – like what we wear these days. A name is given to only one member of the tribe.
Everything they ate was wild. No processed food. That is where the trouble came from (eating processed foods) – for instance, no children for a couple.
Joe was the first to be raised by his parents.
In 1920's they only allowed English speaking at their conventions. The older ways were not shared as much. To compete in the white world, they needed to speak English. This was first major cultural change in over 10,000 years. In 1960's they didn't want to forget their culture and began learning old ways again. About 5% now speak the language at best. There are videos on YouTube discussing Tlingit as a written language today. Out of the 77,000 people in area, 36,000 are Tlingit now. In 1880s, there was a smallpox pandemic. Many villages were wiped out. The shaman left the village as they lost face. Couldn't cure people of the disease. He was their spiritual leader. People felt a religious experience when in presence of their shaman. To become a shaman, you had to learn from a shaman. None were around after the smallpox pandemic. People felt similar when Presbyterians came to area. Therefore they were accepted. But they would not allow people to speak Tlingit language in church. Later, the Salvation Army came in and wanted to learn language and hear songs in their native tongue. They are much more accepted today than Presbyterians.
Aunts would travel 90 miles or more to give a child a name. This often took a trip of over 2 weeks. Once they gave the name, they left and returned to their village.
When kids finish high school, they often don't return to the village. Out of 130 graduates, roughly 1% remain. After they have kids, they often return.
There are 37 miles of road in Ketchikan area. Many live on islands. 18 air miles from Ketchikan is the only reservation in Alaska. Inet Island.
How to help people – buy native art. Eat wild caught salmon. Upik natives. Alaska Federation of Natives. They meet every third week of October. SeAlaska.com is site to learn more. Haida and Tlingit are native groups. The pandemic has devastated Ketchikan. Joe did 1800 – 2000 walking tours each year on his own. Walked 5 miles or more on each tour. He did not have one walking tour in 2 years. He did have time to finish his house, though.
Tomorrow is our last morning in Alaska. We begin our voyage past British Columbia. We are not allowed to stop anywhere in Canada on this voyage. We also had a Canadian pilot join our ship in Ketchikan. I hope to popst more soon as our adventures continued.