Listen to this post
Monday, September 19, 2022. Arose at 6 a.m. and took another photo from the bow. We are now in Mystic Fjords National Monument. In an area called God's Pocket. Most of the time we average 8.5 knots when moving from one spot to another.
According to the book "Roadside Geology of Alaska," the majority of this area consists of igneous rocks which cooled from magma at depths of 4 – 8 miles. Tectonic activity during the late Cretaceous brought these parts of the deep earth's crust to the surface. According to this book, one of the world's largest molybdenum deposits resides at Quartz Hill in this monument.
We left on a skiff tour at 8:30 a.m. with Jess (our guide). Skiff tour N. We returned at 10:30 a.m. I took a lot of photos and share a few here. For starters, here is a 360 degree photo of the area taken with my Theta camera.
This photo was taken while on our "skiff tour" of Misty Fjords National Monument, AK. Water is cascading down a formation of banded gneiss. Photo taken on September 19, 2022. #SEAK22WD #theta360 – Spherical Image – RICOH THETA
We saw several bald eagles, blue herons, and other birds. Here is one eagle we saw in the distance.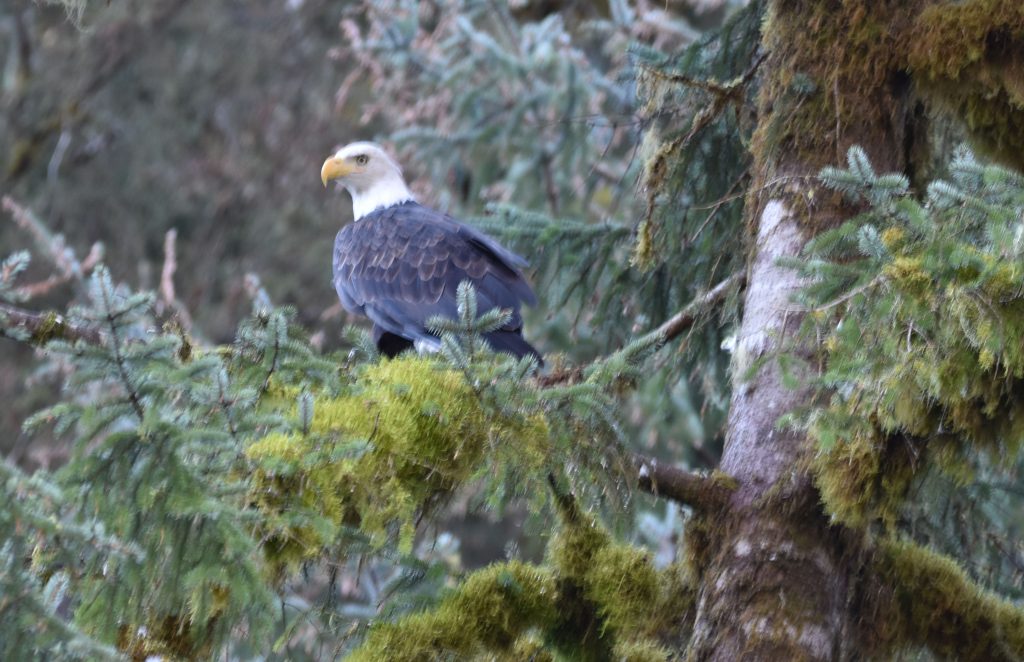 The water in the cove was very still. This is the area where we saw the eagle in the photo above.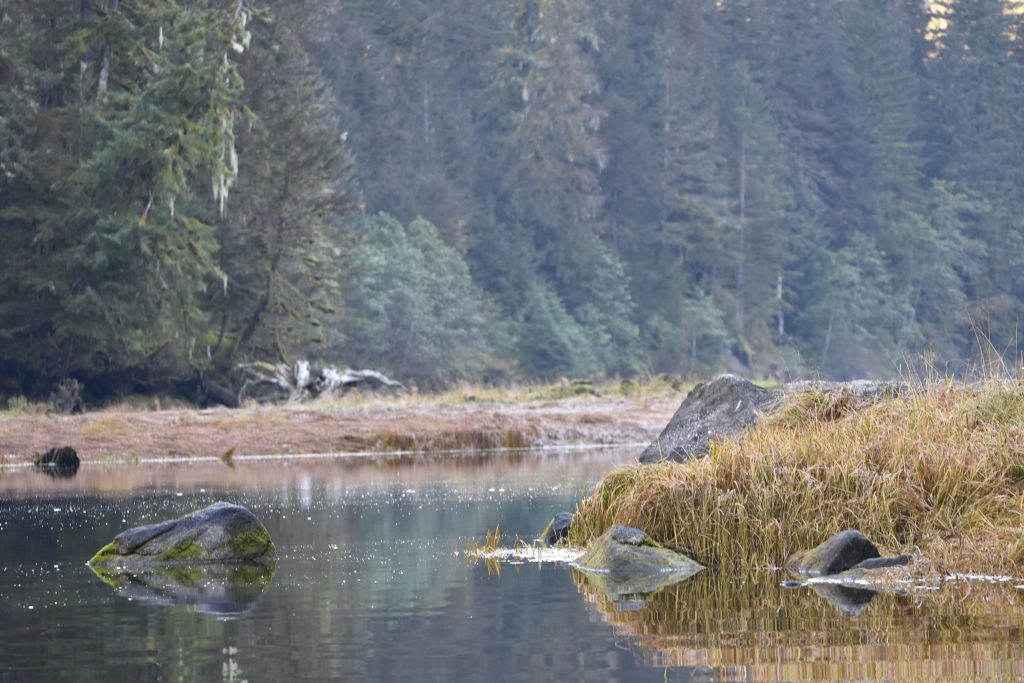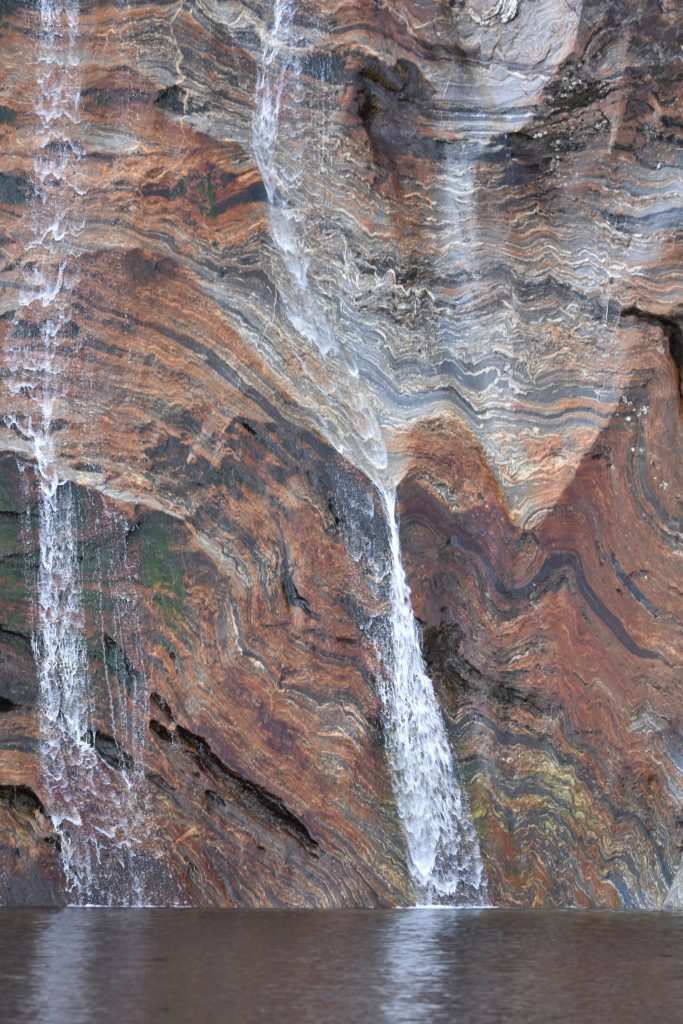 We were reminded by Jess that a waterfall has permanent water flowing. A water cascade is intermittent. Most of the water we observed descending the mountains was in the form of cascades. With so many opportunities, I got a bit creative with my shutter speeds and aperture settings. I thought this was a nice photo conveying the motion of the water.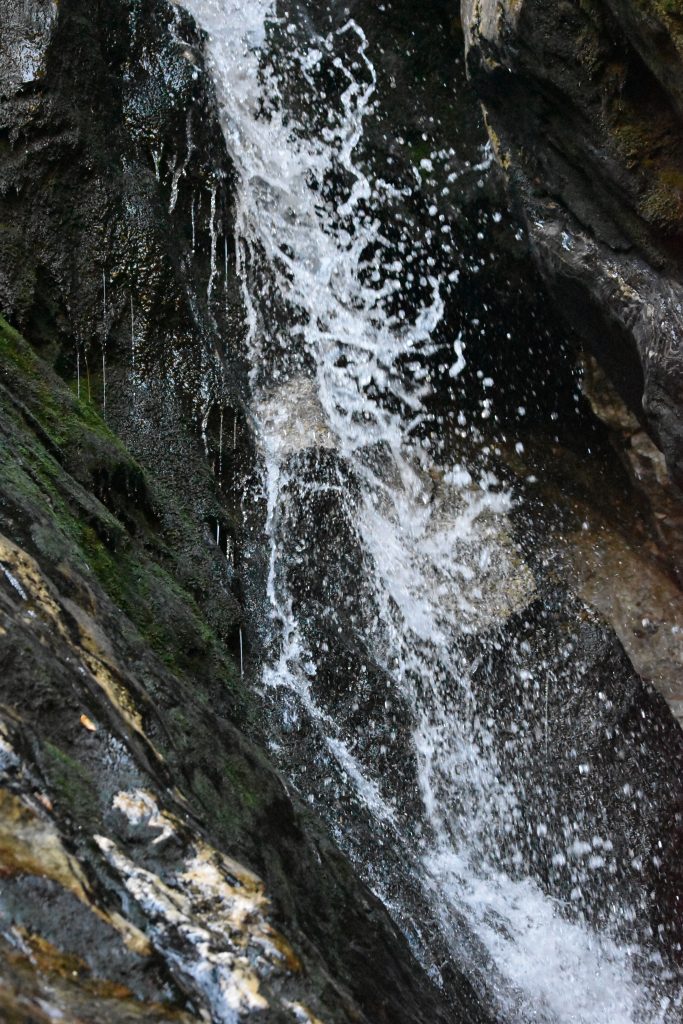 We went through a narrow spot aptly names Owl Pass. Can you see the owl peeking in the rock formation?
After lunch (12:30 p.m.) we began traveling south. We passed New Eddystone Rock. This is a volcanic plug (core of old volcano). Apparently, there is a cinder cone associated nearby. It is under the water. This cinder cones shows evidence of being formed above water. This had to happen between 13,000 and 6,000 years ago. Before 13,000 years ago, area was flooded. Shortly around 6,000 years ago, area was flooded again. There are now sponges growing on cinder cone (per Roadside Geology book mentioned earlier). Here is a photo of New Eddystone Rock. I took this photo from the sun deck of the Wilderness Discoverer.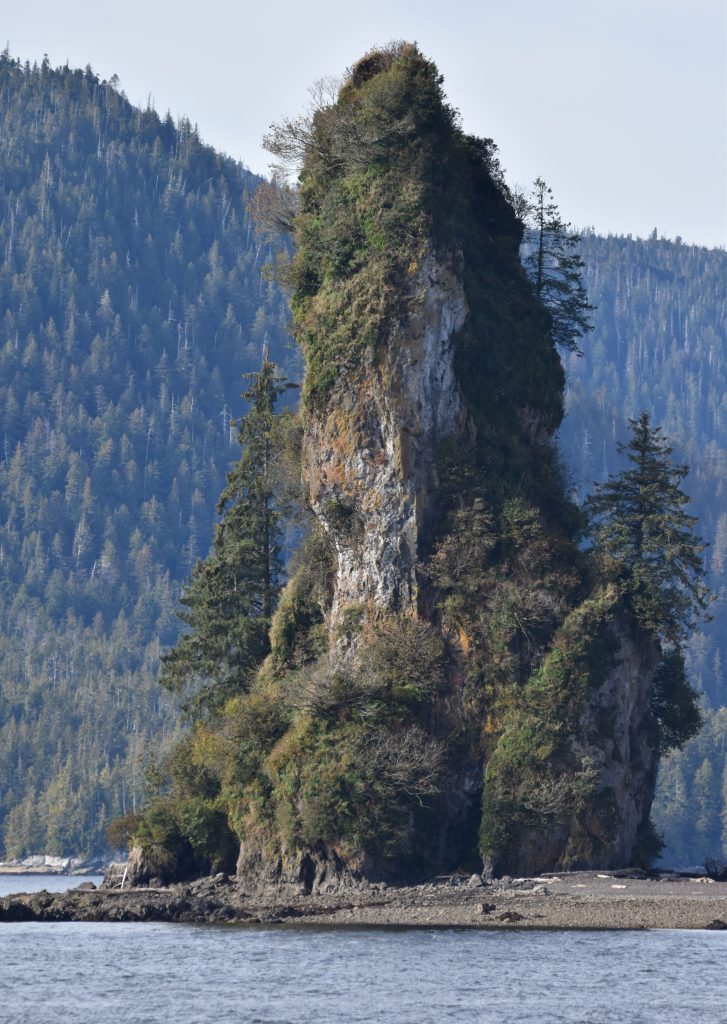 At 7 p.m. we went through the Dixon Entrance. This is the maritime boundary between the U.S. and Canada. We began our cruise south. We could not stop during the next two days as we traversed the waters of British Columbia. I will post more about those days soon.