I find it hard to believe it has already been two years since the last WorldSkills in Brazil. This year, we meet in Abu Dhabi (United Arab Emirates). Yesterday (and today were mostly days of travel). I left Peoria mid-morning on Sunday. After crossing 10 time zones, traveling roughly 7,500 miles over the course of 12 hours, I arrived in Abu Dhabi with a number of other experts from the U.S. Here are a few notes, thoughts, and observations on the 6th day before the competitions begin (C-6).
As I was traveling, I noted we passed over the Iran/ Iraq border at roughly 37,000 feet. I took this photo from my window seat.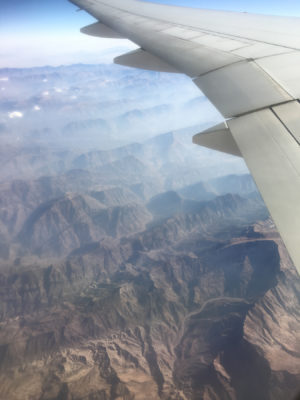 I was amazed at the mountainous terrain.
I also found the landing in Abu Dhabi to be memorable. Here is what I saw as we approached the airport. Note the interesting patterns in the water near the Persian Gulf.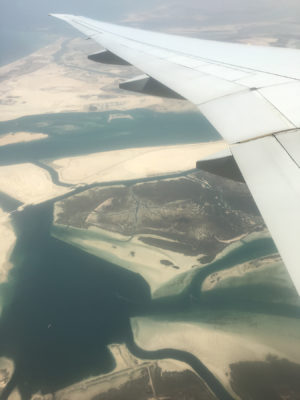 I think this confirms I am no longer in Illinois.
Once we arrived at the hotel, a group of us took a taxi to Dubai and visited the Burj Khalifa. At 828 meters, this is the tallest building in the world. I don't believe this height includes the 75 meters of underground supporting structure. We purchased our tickets online last week and were treated to Arabian coffee (which did not seem to contain any coffee) and sweet dates. We took an express elevator to the 125th floor, switched elevators and continued to the 148th floor. At 555 meters, the views were fantastic. Here are a couple. I also took a number of photos from the 125 and 124 floors but decided not to include them. I have posted a number of Theta 360 photos on my Twitter account for today as well.
These views were taken from the observation deck. Yes, part of this deck is open air. Yes, I was roughly 1,820 feet up.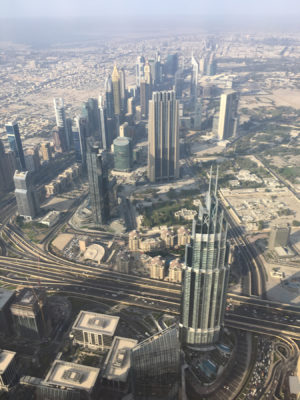 This is a view looking mostly straight down. Note the water near the base of the building.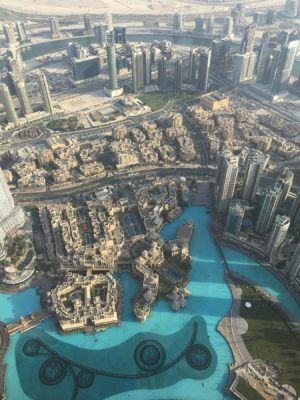 I thought this was an interesting photo because you can see the afternoon shadow cast by the Burj Khalifa. It extends a very long way.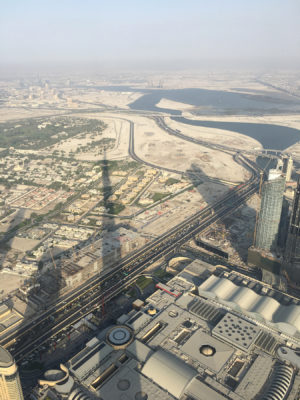 I learned a lot of interesting facts about the building today. For example, it is possible to see the sun set (ok, earth rise) twice on the same day. You view it at ground level, then race up via elevators to the 148th floor and view it set again. Hopefully, that provides some idea of the scale of this building. This was a once in a lifetime opportunity to see the building and I am so glad I had the opportunity to do so.
WorldSkills opens so many doors.
Tomorrow, we begin focusing on the competition and we have a desert safari tomorrow night. Can't wait to experience that.