Periodically, I come across various apps that I find very interesting. Story Me is one of those apps. Unfortunately, it only works with iOS – specifically the iPad (I really wish there was also an Android version). Essentially, this app allows you to create a personalized comic strip from your own photos. You can include speech bubbles and captions. You can position the speech bubbles as desired on the image. You can apply either a cartoon filter or a pencil sketch filter to your photos. And… it is free…
Obviously you have to obtain the app from the AppStore. In the event my previous link didn't work, here is a link to the supporting website.
Here is a simple result that took me less than 5 minutes to create. [Click on the image to see a larger view].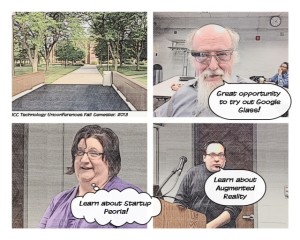 First, you need to select a desired layout for your comic. There are a number of choices (both portrait and landscape for 4 x 6, 5 x 7, 8 x 10, and miscellaneous.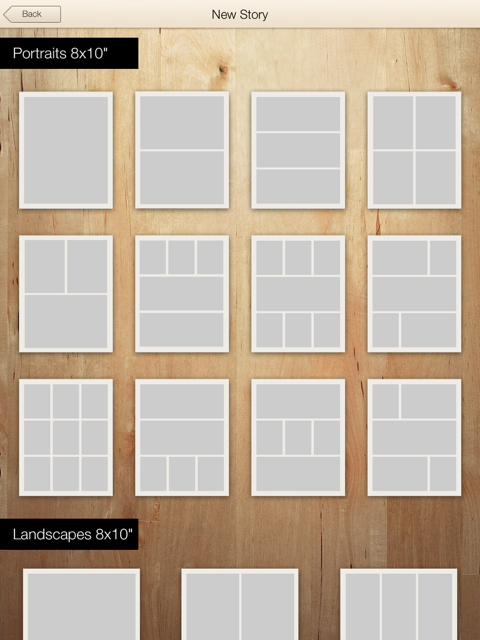 After you select one, you add media. Obviously, you need to allow the app to access your photos. I have removed the majority of the image and highlighted the photo choices I employed. I saved some of these images to my camera roll.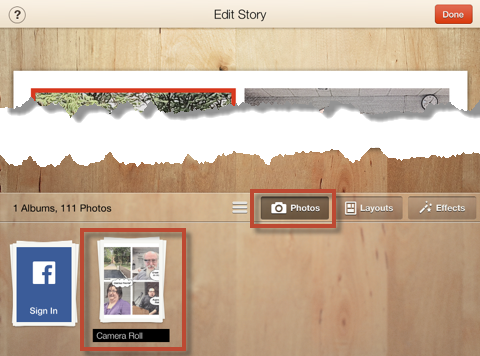 You can also apply certain effects. Again, I cropped the image to focus on the effects.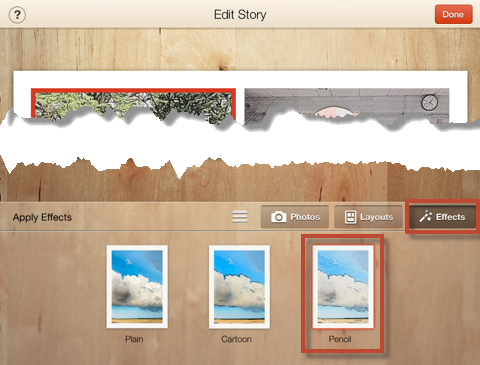 You can add speech bubbles or a caption. The latter appear under the image (in much smaller text).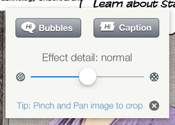 I chose speech bubbles and was presented with a screen like that shown below.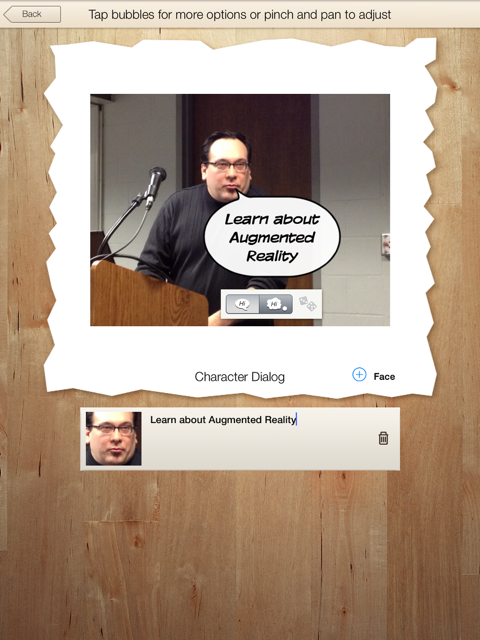 As you can see, you can type the appropriate text for the speech bubble. As you drag the speech bubble around, the pointer to the face changes accordingly (left or right, top or bottom). I found this to be very helpful. You can also help Story Me recognize a face if it didn't find one initially.
Overall, I found the app engaging to use and highly useful to generate personalized comic strips. I just have to find the time to now apply many of my creative thoughts. I am thinking this has some great capabilities in developing examples for teaching.
Some improvements I hope to see in future versions include the following:
Android version
SmartPhone version (for both iPhone and Android phones)
The ability to work in either landscape of portrait mode on the iPad (for some reason, it only works in portrait mode at the moment on my iPad).
The ability to work with multiple pages at once (right now, one needs to work on a page at a time).
The ability to change the font and size of the text.
More effects (beyond just pencil and cartoon). Yes, I know there are other apps one can use and them import that saved image, but it would be helpful to have this in one app.
I am curious if you have tried the app and what your opinion is of the app. What other apps have you discovered that are similar? I look forward to your comments.