I have been reviewing/ experimenting with my new BlackBerry Playbook tablet for the past few days. So far, I like the unit (and the interface). I wanted to share some of my experiences in this weblog entry as others may encounter similar situations. I also want to formally thank Del Simmons (Twitter – @MrSimmonsSr) for his insights and feedback on some of the more fundamental problems I encountered. Your notes were most appreciated.
Hardware – I have the 16 GB version and like the feel of the device as I use it. The keyboard is tactile and comfortable (although a bit small for my large hands). The camera takes nice photos and video (although I have not tried the video chat yet). I do like the front and rear facing cameras. The audio is clear and crisp. Performance is great (although it does seem to take a bit longer than I would like to boot from being powered off – especially since all is on a Flash drive). I  also like the ability for the orientation to change from portrait to landscape as the device is rotated. In fact, you can watch it change as you rotate the device 360 degrees.
Software – for the most part, fairly intuitive. Frankly, I sometimes forget it is not Android as the interface is very similar. For example, one can do a long tap and then drag items on the screen to re-arrange or one can delete an entry). I also like the ability to set a device password (in the event a device is lost/ stolen, it makes it a bit more difficult for someone to have ready access to your files and accounts). Keep in mind you are automatically accessing gMail, Twitter, Facebook and other sites by default. A screen capture of the device password feature is below. Note the default keyboard as well. If you have difficulty viewing the content of these images, just click on the image and you will see it in the actual size captured from the PlayBook.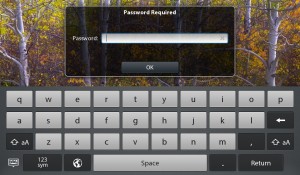 Applications – Although there are a number of applications at the BlackBerry AppWorld, they pale in comparison with what is available in the Android Market or the Apple AppStore. I was able to locate a number of useful apps (in addition to the ones which came with the device). I particularly like the ability to manipulate Word, Excel, and PowerPoint files directly on the tablet. I also like the ability to do screen captures (not intuitive, but one holds down the volume up and volume down keys simultaneously and you then hear a click and the screen capture is stored in your Pictures folder). I also wish there was more than the default browser (although it is fine). It is great to save a bookmark either within the browser or as a shortcut directly on the main screen of the device. I was able to find applications for most types of access (for example, Twitter, Facebook, DropBox – although the latter is called BlueBox). There are many different calculators, language translators and conversion utilities available. Curiously, I have run into some problems with trying to download Adobe AIR apps which are not found in the AppWorld location. Might be a security setting. Here is what my initial screen looks like at the moment.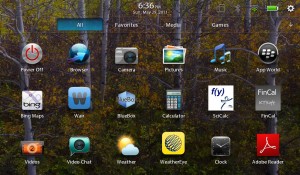 If I wanted to move items around or delete them, I just hold down my finger (as in a long tap) and get the ability to remove the application. A screen shot is below. I can click on the checkmark in the upper left to accept or click elsewhere to accept as well.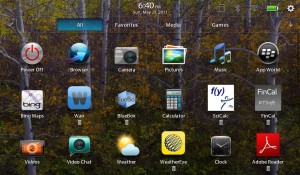 I did note that there was no initial ability to upload attachments to my gMail application. However, a quick Tweet about that and Del Simmons reminded me there is a desktop link near the bottom of the gMail application. Once I clicked on that, I am able to send attachments just fine. I also encountered a new application to quickly generate QR-UPC codes (Insta-QR). I have included a screen shot of one below. If you have a smartphone, use a bar code scanner to examine this image and it should direct you immediately to this weblog (main page).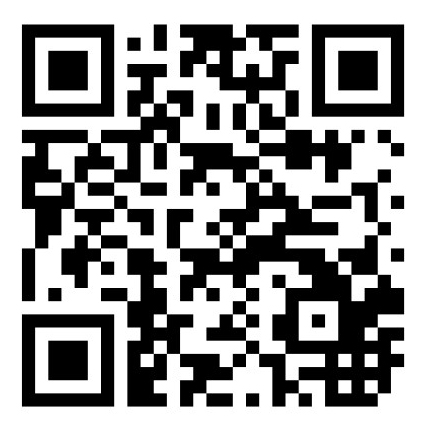 Overall impressions – I like the hardware (and the ability to read PDF versions of books in full color – something lacking on my Kindle). I like the form factor and interface a great deal. In fact, I already find myself using this in situations where a laptop is just too bulky to open and work with (restaurants, for example). I like the ability to connect to wireless networks (although I prefer to use my own instead of some public wi-fi network). Ok, I was once paid to be paranoid and it is tough to get out of that mindset. I am left wondering why the OS is not Android based as I just don't see why yet another OS is needed (perhaps I am missing something obvious here – that is why I have this open for comments – I just need to approve them). I do find myself taking this with me a lot more that I do my laptop (I think this is the general idea). I simply don't see any need for a netbook sort of computer now that I have a tablet. The only downside I can find is the BlackBerry desktop application. It simply doesn't seem to work on my Windows 7 environment. When I connect the PlayBook, the application launches (clearly it sees the device). However, when I try to do anything, I am immediately told to connect my device – huh? Perhaps a future upgrade is in order. In the interim, I have Wair and BlueBox (DropBox) and they work fine to exchange files. I don't really see the need to backup the entire device as I am only keeping temporary files on it (I know those are famous last words – however, there is no easy way I have found to do this since the lame desktop application doesn't seem to work properly on Windows 7 Professional).
Lastly, I find it very useful to view lynda.com tutorials on this device (it is a pain to use my Android smart phone as the screen is too small). I also find I am finally able to access my school email without having to pinch and zoom all the time. It would be better if I actually had POP3 and SMTP access directly, but that is another issue (which I believe it currently being worked on).
I would definitely recommend this device to someone looking for a simple to use interface that can be taken many places where a laptop or netbook is simply too bulky.