Listen to this post
Monday, September 12, 2022. I awoke about 6 a.m. It was very foggy initially. Went out to the deck and took a photo from the bow.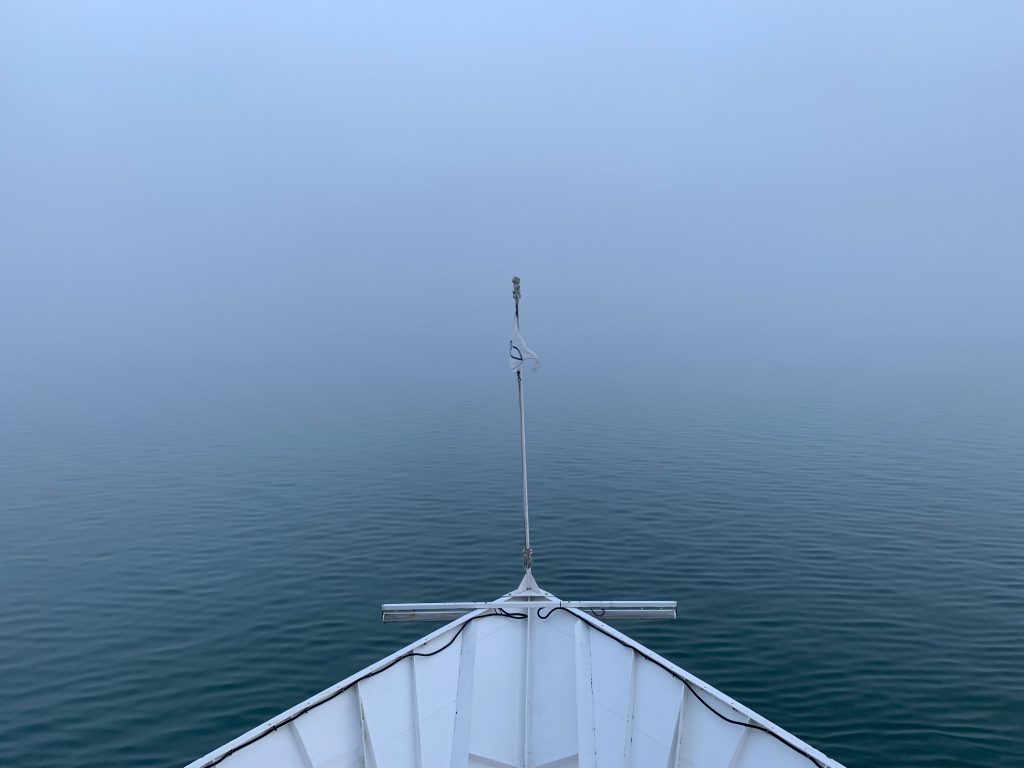 Breakfast was served at 7:30 a.m. Another excellent buffet and we met some new friends. We are sitting with different people each day. We had an overview of potential activities. We could do kayaking, climb a ridge to view the top of a glacier, or do the "Ice Gardens" tour. We chose the latter. We got introduced to our guides. John, Jess, Callie, Rachel, Doug and Sam.
We had safety drills so we knew which flotation device to use for which activity (kayaking differs from that used on the skiff). We would take the latter on the tour. We are traveling at roughly 7 knots while in the park. Seems to be the maximum speed (generating a limited wake). Sadly, there was a large cruise ship following us – tended to get in the way of photos. We had the chance to view the Margerie Glacier in Tarr Inlet. Took a lot of photos of the glacier and nearby mountains. This glacier is a tidal glacier. This means it extends into the bay.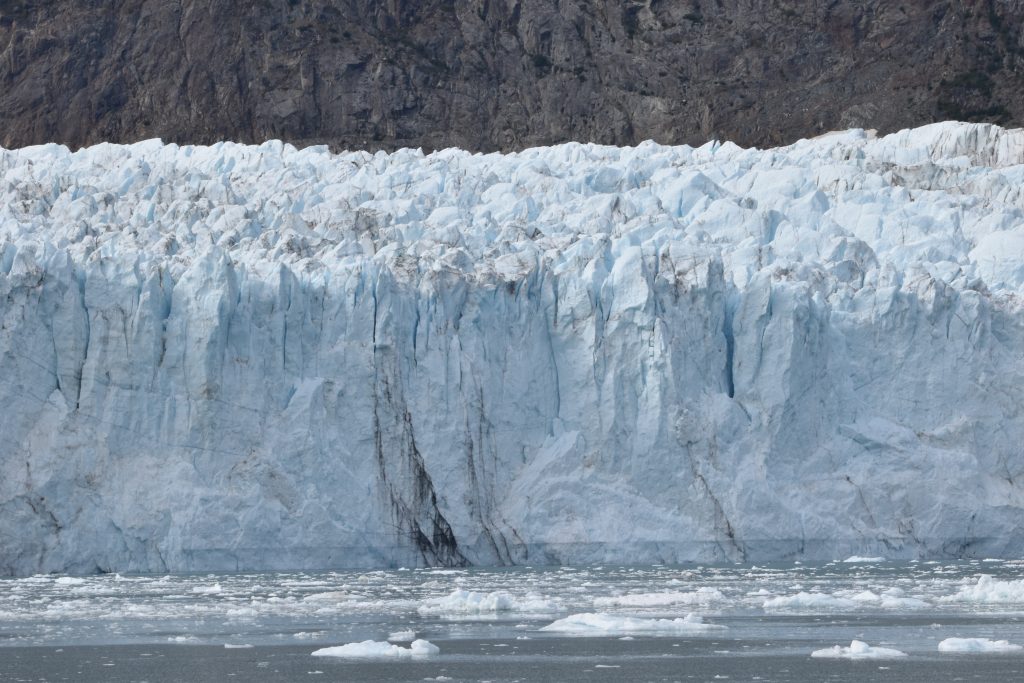 We passed a number of small icebergs and chunks of ice. Harbor seals often rest on these. Here is one we saw.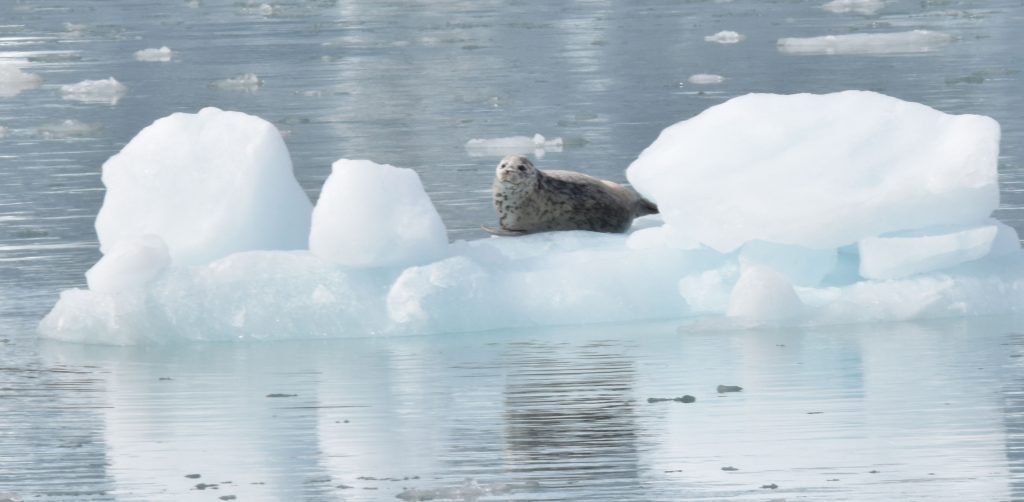 Lunch consisted of pita bread, chicken, orzo salad, tossed green salad and apricot bread. Met Heather (a journalist). She recommended a book called "Passage to Juneau."
We started our tour at 2:45 (left the ship in a skiff aka zodiac). We went quite a distance from the ship (although the glacier looked very close). We could get no closer than 0.25 mile. The glacier is calving and Coast Guard regulations keep us safely back from the danger zone. We visited the Lamplugh Glacier. Ruth took this photo of me in front of the Lamplugh Glacier. I am standing on a moraine which was under ice a mere 6 years ago. Keep in mind the glacier is roughly 0.3 miles behind me.
We could see a large tunnel under the ice where melt water was flowing into the bay. Yes, if you are curious, both Ruth and I tasted the Lamplugh Glacier (OK, a piece that recently broke off). Yep, it tasted like ice.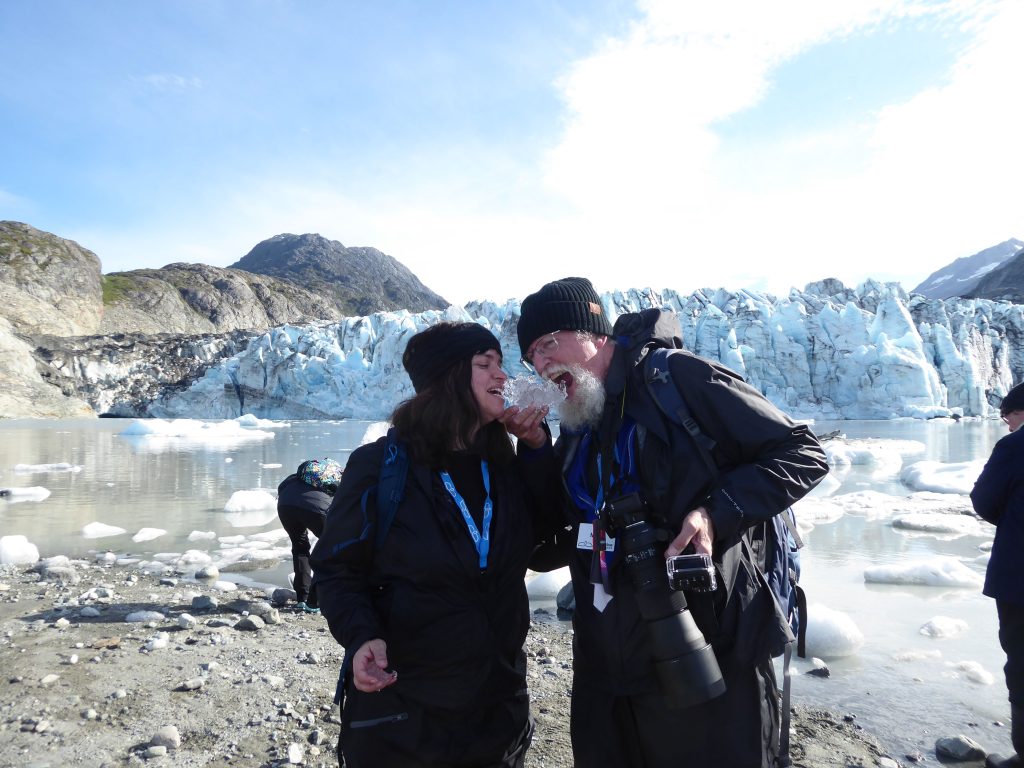 If you are curious, when you place glacial ice in a glass of water, it fizzes as the air bubbles are released (they are under pressure from being trapped for centuries). If you place a piece of the highly compressed blue ice in a glass, the escaping air bubbles may emerge with such force they will shatter the glass.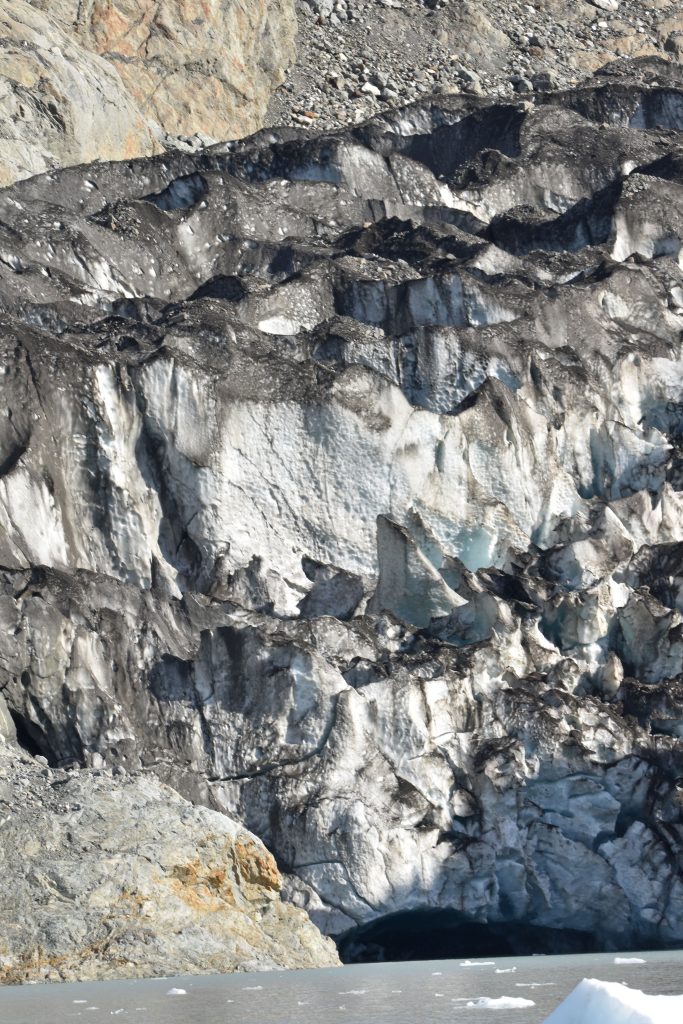 The water flows into the bay and bubbles to the surface periodically. A part which may appear to be solid material can suddenly turn to this sort of bubbling froth.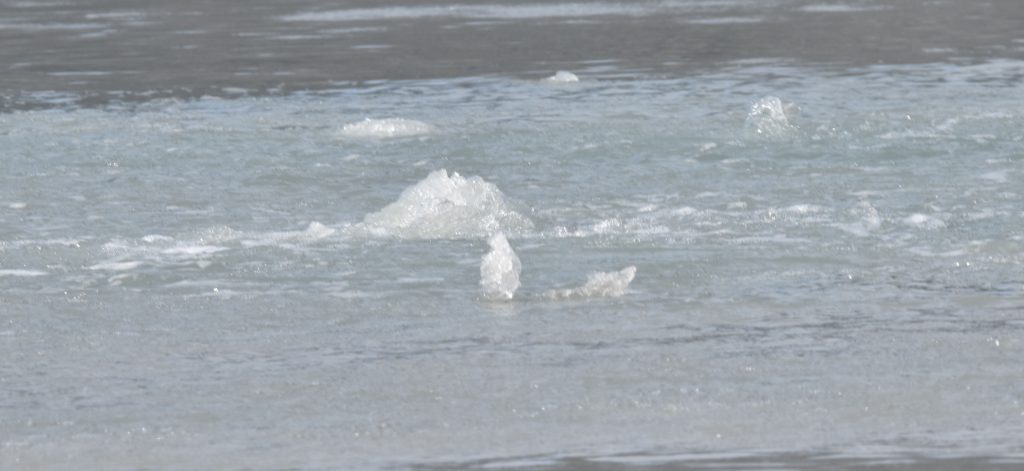 I also did a hyper lapse on the return trip. Also got to see glacier calving. I did not get a video, but it was very cool to see.
I am writing this as we raise anchor and begin our sojourn south. A fantastic first day on our adventure. Cocktail hour tonight featured a drink called Southbound Sunset (gin, mint tea, fresh squeezed oranges and Cointreau lemon zest. Very tasty. Tonight, we see the John Hopkins Glacier – a bonus glacier before dinner. Here is the glacier viewed from the ship.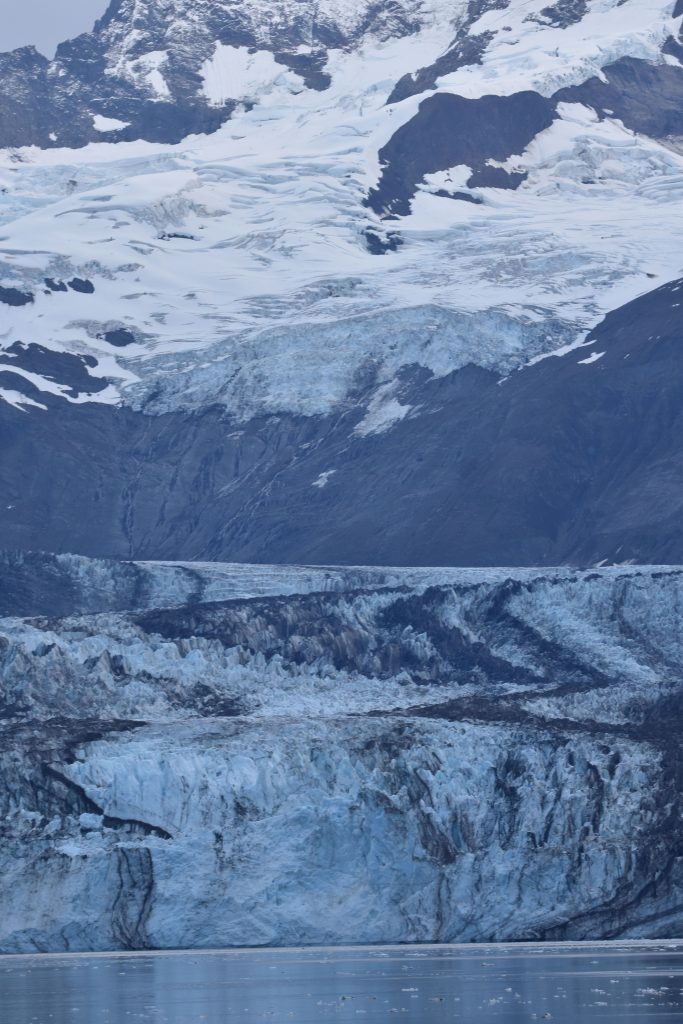 While visiting this glacier, we did get to watch it calve. Yes, this time, I got a photo. The piece which broke off was massive.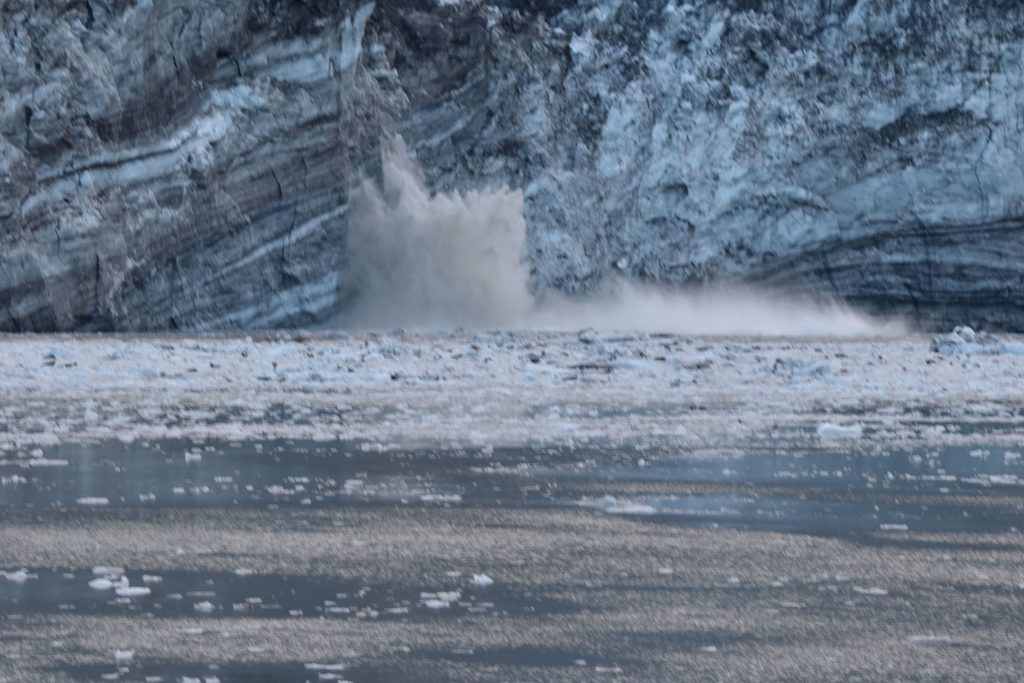 After dinner, Callie (one of our guides) gave a presentation about the history of Glacier Bay. It is 3.5 million square miles. There are 8,000 glaciers here. As glaciers move, they form lateral moraines as they ebb and flow. There are also medial moraines as others small glaciers feed into the glacier. The John Hopkins glacier has about 50 such medial moraines and goes 12 miles up the valley. It is named for the university, not the person. OK, the university is named for the person so indirectly, it is named for the person.
Glaciers we viewed included:
The Gillmore glacier, which is off to the left side of the John Hopkins glacier.
The Margerie Glacier, which is a tide water glacier. It extends out into the bay and goes under water. It is one mile wide with 200 feet above where it calves and 100 feet below water at that spot. It is 21 miles long.
The Ferris Glacier (which is near the Johns Hopkins Glacier) is covered by rocks and is brown. It looks like land. It is 1.3 miles wide with 65 feet above the sea is 20 miles long.
The Lamplugh Glacier is 1 mile wide and 19 miles long and 165 feet high. It is mostly a valley glacier except on the left side where it is a tidal glacier. That side is where I took the photo of the ice tunnel.
Glacier Bay was formed during the Little Ice Age (early 14th through mid-19th centuries). It started receding about 1750.
In 1680, the Huna people lived in the valley and there was a glacier about 4 miles away. The valley had two rivers. All this is recorded in their oral traditions. In 1750 there was ice out to the strait. John Muir visited in 1880 as part of his effort to prove Yosemite was formed by glaciers. He wrote the book "Travels to Alaska." At the time the glaciers had retreated 40 miles up the valley (aka Glacier Bay). Those glaciers are now 65 miles up the valley.
Glacier Bay became a national park in 1980 (it was a national monument before). In 1992 it became a world heritage site.
Tomorrow, we visit North Sandy Cove. More about that soon.