Listen to this post
As I write this, today is September 11. I always reflect on that tragic day. Jeri and I were stunned watching the news feeds that morning. Never forget.
Today is the day we start our 12 day cruise along the Inside Passage to Seattle. There will be no Internet or cell service for the duration. I anticipate the ability to focus on the experience without the digital distractions of modern life.
I mailed a few post cards today (yes, I am "old school'). Seems like the appropriate thing to do as that is how many communicated before all these gadgets.
Ruth and I did some last-minute shopping. We don't anticipate having much of a chance to do more as the cruise is to uninhabited parts.
We ate lunch at the Sandpiper restaurant. I had crab cake benedict (think eggs benedict but with crab cakes). Very tasty. Even had capers on top of the hollandaise sauce.
Our final stop for shopping was at a Ben Franklin. Yes, that store from my childhood. Apparently, there are about 100 left in the U.S. This spot had a great number of local souvenirs and we got some for various friends and family.
Ruth got me a very special souvenir. I will share more of that story with those who know me well (perhaps over a meal). I was quite surprised and most appreciative.
We are taking the Wilderness Discoverer ship to Seattle. There are a maximum of 75 passengers. For this trip, there are 62. We saw several massive cruise ships in the Gastineau Channel at Juneau. Some must have held at least 5,000 people. One ship we saw (Ovation of the Seas) holds 4,905 passengers and 1,500 crew. Outside of aircraft carriers, I have never seen ships that large. They dwarf our ship. Here is a photo from the top deck of our ship as we passed that monster. Even at the widest angle, I could not fit the entire ship into one photo frame.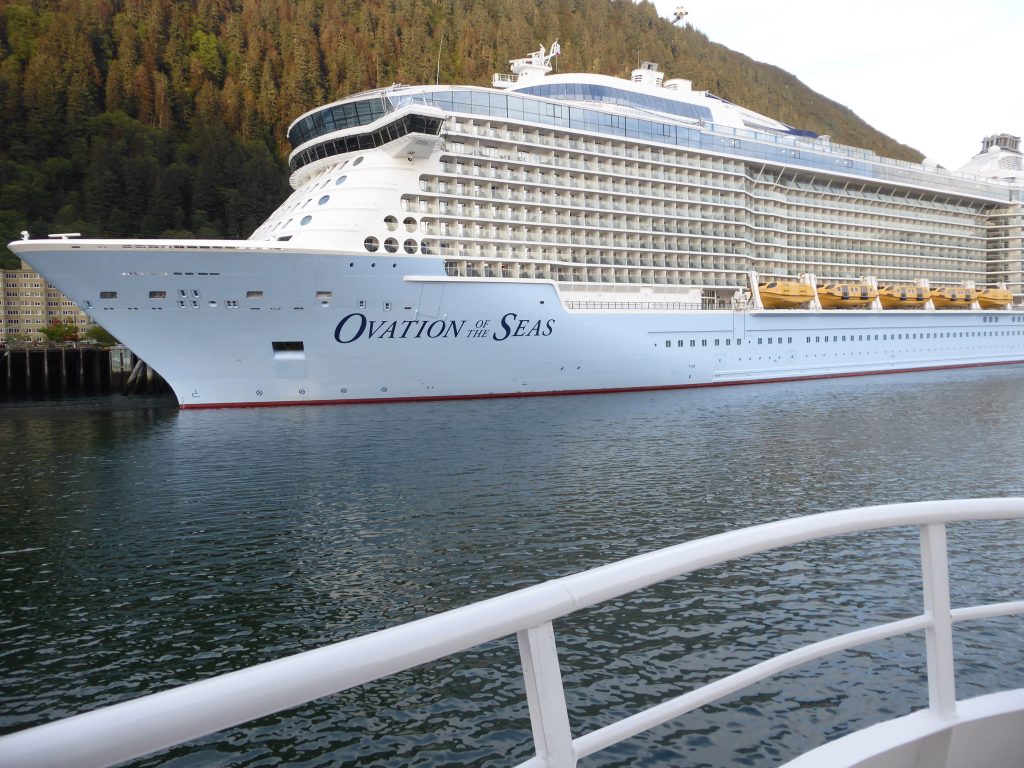 Personally, I am glad we chose the smaller version. Less chance of covid transmission, more open space, and a chance to make new friends. We can also visit places that others will not be able to as the ship can navigate much shallower channels.
We dropped our luggage off at the UnCruise boarding station and took one last tour of Juneau. Everything is centrally located in the city. I was amazed to learn there are a total of 40 miles of paved highway in the area. For the state capitol, that is it. I also learned that Juneau was the largest city in early Alaska (due to the gold rush). That also accounts for it being the state capitol.
We are now in the boarding area waiting to leave Juneau on our ship. It is a nice lounge with antlers and bear skins on the walls. They do ask that we all wear masks in enclosed spaces. Personally, I like that. I realize the large cruise ships have dropped their mask mandates. If only the pandemic were actually over. Yet another reason I am glad to be on an UnCruise adventure.
The weather these past few days has been partly to mostly sunny (it was raining for weeks before we arrived). Temperatures are in the mid-50s during the day and mid-40s in the evening. Some days had a wind which made it feel a bit colder.
We boarded the Wilderness Discover ship at 5 p.m.  UnCruise had a waiting lounge where we could sit for a while as we awaited our departure. We met Bill and JoCell in the waiting room. As we boarded, a photo was taken of us. The crew wants to get to know everyone and that is the easiest way for them to do so. We are staying on the 3rd deck (to the aft of the ship). You would think the day ended with an excellent supper of beef tenderloin and salmon. I also took a hyperlapse as we exited Juneau.
However, at 11:30, we were awakened by an announcement by the captain that we could get up and see the Norther Lights if we wanted to. Duh. It was a dim display, but still the first time I have seen the Aurora Borealis ever. Looked like city lights, but we were well beyond civilization as we travel north to Glacier Bay National Park overnight. Sadly, none of my photos turned out. Turned in again about 11:45 as it was cold and windy. We were also fighting a nearly full moon (which made it even more impressive that we saw the lights. Quite a conclusion to our first day on the Wilderness Discoverer.