Listen to this post
I believe humans have an innate desire to travel and experience new horizons. At least, travel is one of my favorite activities. It is hard to believe that it has been over 2 and a half years since Jeri, Ben, Lindsay, and I returned from Hawaii. Jeri died in April of that year. Most likely one of the first victims of the pandemic (although doctors could never provide insights as to what caused her to never wake up).
This is my first extended excursion outside Illinois since. So many trips to so many places over the years. Those who know me, know that it is easier for me to say I have not been to Africa nor Antarctica than to list all the places I have visited. This is the longest span I have stayed in the Midwest in my entire adult life.
Of course, we are still in the pandemic so travel must be a bit more limited. Instead of visiting other countries, I thought it would be good to visit a new state – Alaska. And take a new mode of travel (a cruise). Ok, this is a very small vessel. More to come about this part over the coming days.
On the 9th day of the 9th month of the 22nd year of the 21st century, I am wending my way north to Juneau, AK. I am going mostly by air (excluding the 27 miles from my home to the local airport. Peoria to Chicago first; then Chicago to Seattle; finally, Seattle to Juneau. Total distance by air 3,304 (plus 27 by car = 3,331 miles in one day). Imagine how long that would have taken a century ago. Two centuries ago, the Corps of Discovery took years to travel from St. Louis to the Pacific Coast. Now, it is less than a day. Ok, I had to get up at 3:30 this morning, but it will still be less than 24 hours total travel time. I never cease to be amazed by the advances in technology. I am writing this first part of my blog as I wait for the plane to Seattle. Alaska Airlines for this leg of the trip (as well as the next to Juneau). While waiting for the flight, I had breakfast at the Wolfgang Puck restaurant on the B concourse at O'Hare Airport. Was always curious about that one and never had the time to investigate. Had an applewood smoked bacon and cheddar cheese omelet. I also had to do a 360 Theta photo near the dinosaur replica in the B concourse of O'Hare Airport.
Replica dinosaur fossil at O'Hare Airport in early September, 2022 as we were traveling to Juneau, AK. Yes, it is wearing a mask (zoom in if you want to check). Start of our #SEAK22WD trip. #theta360 – Spherical Image – RICOH THETA
Seattle is our next stop. For those who don't know, I am traveling with Ruth Towns. We met in the grief group and soon discovered we had so much in common. It is amazing how similar we think. We have quickly become best friends. We often start each other's sentences (yes, we are that similar in many ways). She is 6 months ahead of me in our respective grief journeys. I am looking forward to many new experiences and memories as we travel together. We are now in Seattle. Saw Mt. Rainier as we approached Seattle. It was poking through the clouds. The last time I was here was with my son after he graduated from high school. Yep, that was in the last century.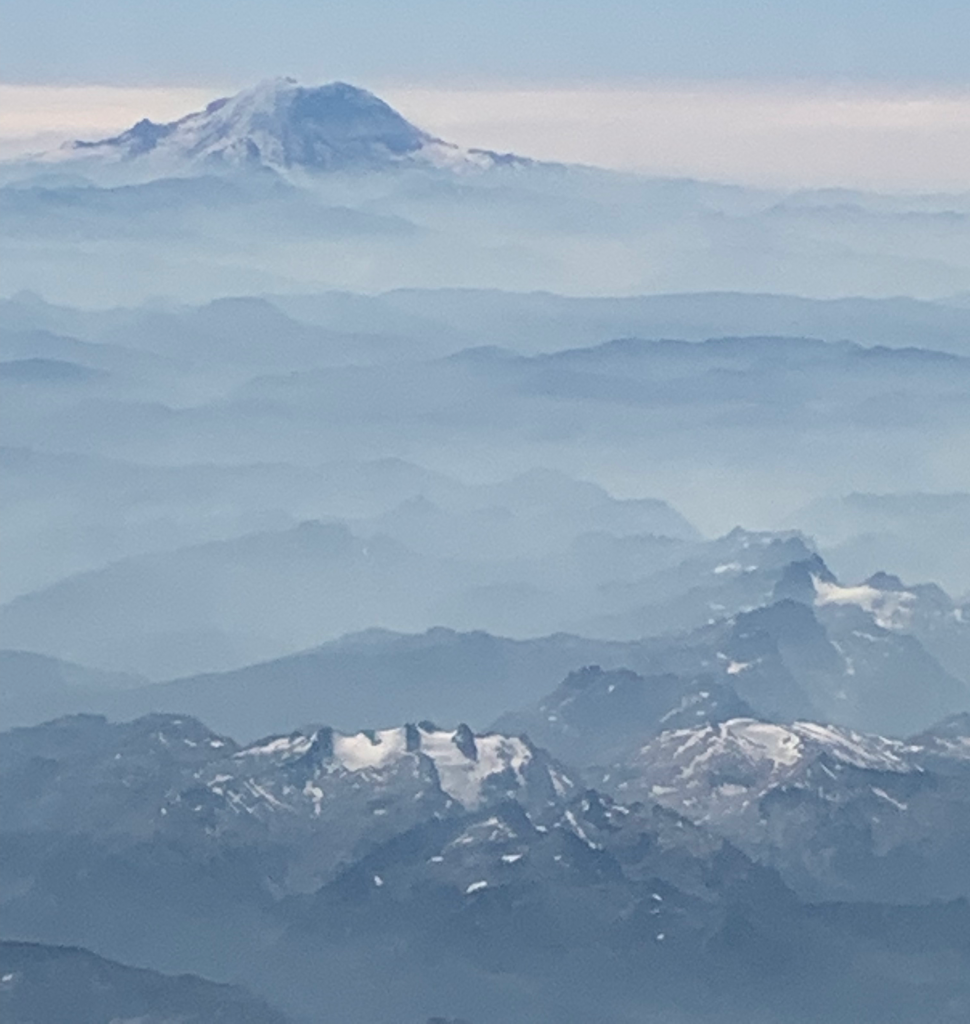 As we traveled through SEATAC airport, I had forgotten that one must take a tram between gates. Initially, it seemed odd that we were going down multiple levels to get to the next gate. It all made sense when we got to the platform. Took a while to get to the next gate. We have a few hours before our next flight, so we had a nice meal (lunch or dinner, my time zones are getting confused). I am still impressed at how quickly we made it to the west coast. However, we have now been travelling for 14 hours. We have another 2.5 hours to Juneau (after another layover of a few hours).
As we approached Seattle, it was impressive to see the Cascade Range. I never cease to be amazed that these were all active volcanoes (and some may still be active – our human time scale is no match for the geologic time scale). Our next stop is Juneau, AK. Tomorrow, we visit the Mendenhall Glacier. As we arrived in Juneau, there was a rainbow visible from the plane. Perhaps a portent of a great trip?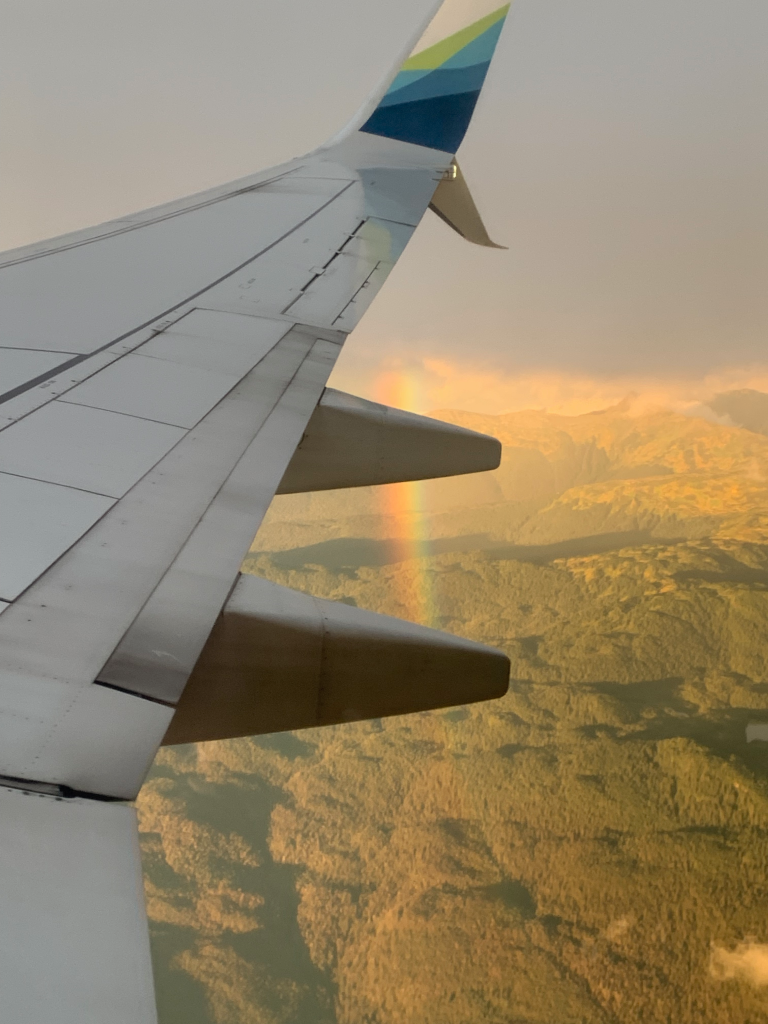 We arrived in Juneau about 7:30 p.m. local time. Been up a little over 24 hours. Crossed 4 time zones (started in Central time, then flew over Mountain time, landed in Seattle on Pacific time, arrived in Juneau on Alaska time (GMT -8 as they also rely on daylight savings time).
Today has been a day of travel. It is easier traveling together. It also helps that Ruth has much better vision so she sees many details I would overlook. I am glad we had sufficient time between flights in both Chicago and Seattle. We had time to eat a leisurely meal in both locales. I find it interesting that on my last trip, we departed from volcanic soil, and I am also now on volcanic soil waiting for the final leg of this trip to Alaska. 2 years ago, I visited the 50th state admitted to the US. Now I am about to experience the 49th state admitted to the US. I will post more soon.