Today was another busy day. We updated a fair amount of software on the workstations and server. I was part of the team which made certain Zeal Docs (and the appropriate docsets) were available on each workstation. We also reviewed the projects, confirmed there were at least 30% changes from the test project we sent to competitors. Once we agreed on all the changes, we individually approved the changes and we were then told we could provide the project descriptions to the competitors. Frankly, I like this new approach as it gives competitors time to review what is expected of them and to ask questions of the experts before the time crunch of making all the code work to accomplish the prescribed tasks.
Here are a few photos from the event today. I hope you enjoy seeing what is happening on a daily basis. As one may expect, the crowds at lunch are increasing as we get closer to the start of the competition. Here is the line once we actually made it into the lunch tent.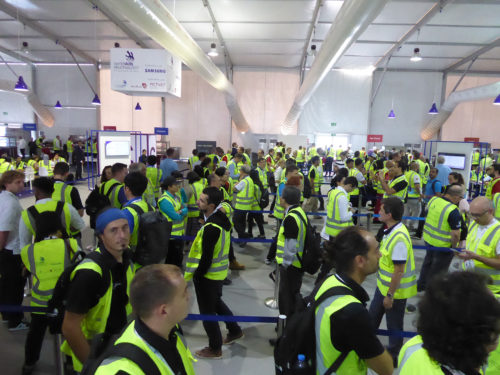 Signage is also starting to appear in the competition areas. If you are curious about fellow experts, here is a list from the sign at our web design competition entrance.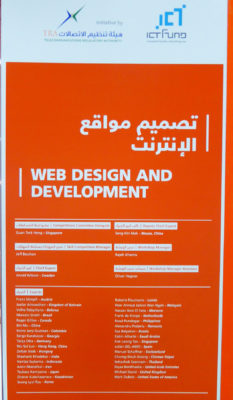 After the day concluded, I was able to participate in the SkillOut event. This is an opportunity to mingle with experts from all the competitions. Here is a quick view of the outdoor event. Yes, it was warm at night. It was a good opportunity to relax a bit and talk with others. This was on the top floor of one of the local hotels.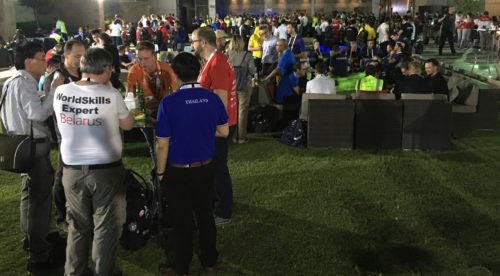 I managed to catch one of the last buses back to the hotel. This did give me a chance to see what Abu Dhabi (the part near our competition) looks like at night.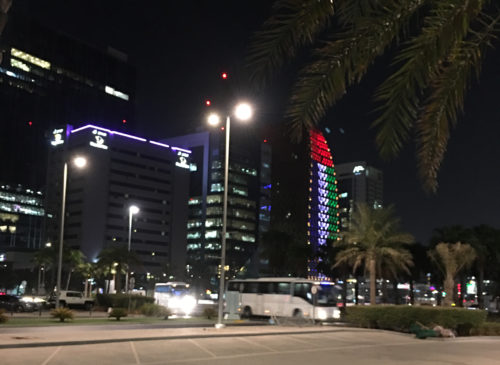 Tomorrow is familiarization day for the competitors. This event seems to be racing past for me. It is hard to believe the days of actual competition are almost here.