I am traveling a lot this summer and thought readers might like an update as to my activities. In a nutshell, here are the trips I completed in the past few months. I plan to summarize these travels in separate posts. The first 2 trips are summarized in this post. Of course, there were family outings (such as geode hunting along the Illinois/ Iowa border) which are not on this list as well. Yes, it has been a very busy summer.
Springfield, Illinois (Working Connections conference)
National Web Design Contest in Louisville
San Jose, California (Adobe Education Leaders Summer Institute)
United Kingdom (stayed in London, Derby, and near Tring)
Houston (yes, 1 week before Hurricane Harvey) (providing training to 600 teachers on Adobe Spark)
Southern Illinois (to view the eclipse)
Washington, D.C. (various meetings)
The first event was Working Connections (Springfield, IL) for a week in late May. This was a great opportunity to reconnect with fellow educators and to learn about Arduino micro-controllers and so much more. Although I typically teach a class on web technologies during this week, this time, I took a class on human computer interactions with a focus on Arduino micro-controllers. It was great to learn about this technology. Many thanks to Scott Rhine for offering the course and giving us sufficient time to experiment with the technologies.
Here is a photo of me experimenting with persistence of vision (optical illusion) using an Arduino (on the right, and the actual Arduino on the left). Yes, the Arduino really is about the same size as a large postage stamp.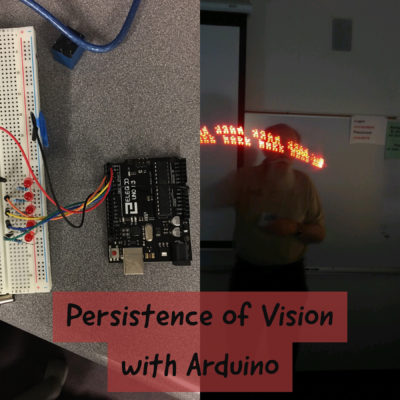 I provided a summary of my experiences with Arduino at our June central Illinois Web Professionals meeting. I also demonstrated an example of a controlled LED display (looks like fire in a jar).
The next stop in June was running the national web design contest in Louisville, KY in late June. If you are not familiar with our web design contests, please visit our WebDesignContest.org site where we describe the purpose of this contest. You can also learn about the 2017 winners (we hold separate competitions for both secondary and post-secondary teams). Judges made a number of comments as well. We hope these will improve all efforts next year.
Frankly, I remain so appreciative of the efforts of all those who help with the contest. In addition to those on site, we have judges who review the work of competitors off site (and do this late in the evening knowing they must be working at their "day job" in the morning). It definitely takes a team to accomplish this every year. This was our 14th year (for those who are counting). Many thanks to everyone. Here is a photo of the team which was on site for the duration of the competition.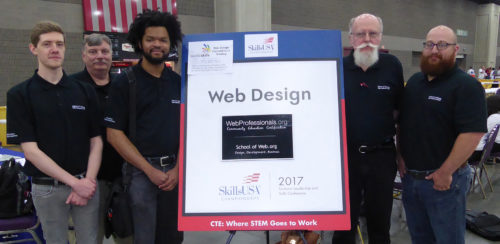 I was also able to spend a little time working with Riley (previous web design competition national winner who is now competing in WorldSkills Web Design in Abu Dhabi in October). He has been working very hard preparing for this competition.
After our web design contest concluded, I next visited Adobe headquarters in San Jose. That will be covered in the next post (along with my trip to the United Kingdom).
Keep in mind that all these trips happened the same summer I officially retired (I was a full time professor of Web Systems until June 30, 2017). I hope readers find these synopses of my trips entertaining (and a bit informative). I look forward to your comments. I hope to have the next post ready in another week or so. I know those are famous last words as I write them…