During the week of May 23, Working Connections was held in Springfield, Illinois. This represented the 14th year for this event (and my 13th year teaching a class at this event). I thought it might be helpful for others to learn more about Working Connections and why I think this is so important for teaching and learning. In spite of the Illinois budget fiasco, a number of faculty throughout the state participated (I know some had to contribute personal funds for travel). The following classes were held:
Teaching web design and development and eLearning best practices (using Camtasia, Captivate, Presenter and more) (I taught this one).
Computer forensics and ethical hacking (William Wolfe II taught this one).
Inspiring creativity and innovation in the classroom using technology (Scott Rhine taught this one).
Microsoft Windows 10 & Office 2016 and Android Studio Boot Camp for Beginners (Corinne Hoisington taught this one).
In my opinion, this was a great week for learning new technologies and techniques. It was also a great opportunity for networking with peers.
Obviously, I was busy teaching a class. That being said, there were numerous opportunities to network during lunch, dinner, and breaks. Part of the reason I attend every year is that I learn so much. This observation was confirmed in that I encountered several individuals who have retired from actively teaching at their college, but still found time to attend Working Connections.
Those who did not participate in this event missed a significant learning opportunity. Let me focus on the creativity and innovation class for a moment. Scott Rhine focused on how devices (like Arduino and Raspberry Pi) can be used in teaching. I provide a couple of photos which reinforce the creativity covered in that class.
First, we had the banana piano (each fruit produced a separate note when touched – the pineapple made a high pitch squeal).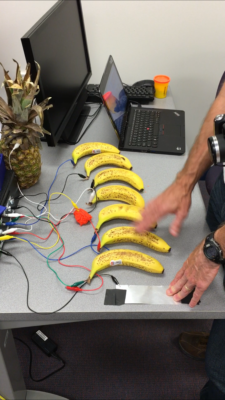 There was also a working example of the AR (Augmented Reality) Sandbox. In this case, the software running on a computer interfaced with a projector and a sensor (part of a previous Microsoft Kinect 3D game environment). One could manipulate the shape of the sand and the topography was sensed and adjusted by the program. If you held your hand above the surface, it simulated rain from a cloud (your hand was determined to be a cloud). The AR Sandbox software is shown below.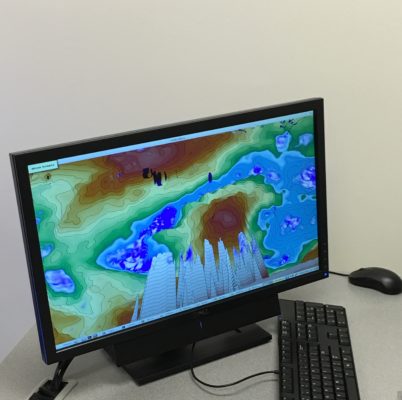 The actual sand has projections representing water (blue) and topography is sensed.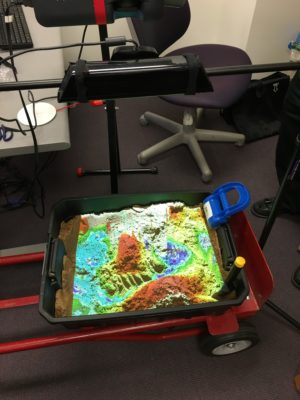 This is just a hint of what was covered in one class. If you are reading this note and teach technology, you really should consider attending the next Working Connections (May, 2017). It is a great opportunity to learn a lot (for a very reasonable price).
Those who know me understand that I often talk about "the cloud" – one of my personal benefits from this Working Connections was that I was finally able to hold "the cloud." When you next hear me speak of moving things to the cloud, you now know. Yes, geek humor – deal with it. Actually, this "cloud" interfaced with an Arduino and had LED lights which changed based on various conditions.