All told, my trip to São Paulo, Brasil was a very interesting and informative trip. I learned a lot about the processes involved with WorldSkills. I received my Expert pin (there was a small ceremony among the experts at the conclusion of the competition where each received a special pin commemorating this event). I met a number of new friends and had many great discussions with peers about web design and development. I am hoping we stay in touch for a number of years to come. Personally, I am already looking forward to 2017 when WorldSkills will next occur (this time in Abu Dhabi). I am very appreciative to Web Professionals for initially nominating me to be a part of this event.
I enjoyed meeting the people of Brasil. They are very friendly. I was able to navigate around the city and learned a little Portuguese in the process. This event was held in the largest city in the western hemisphere (one of the largest cities in the world). I know readers of this blog think Chicago is a big city. I thought I would include a comparison of cities. Since I returned from Brasil via Chicago and Peoria, I thought it appropriate to include both in the image below. Note the scale is the same for all these cities. I hope it gives you a clearer understanding of the immense space occupied by São Paulo. Peoria might qualify as a village based on this scale. Yes, you can click on the image to see a larger version.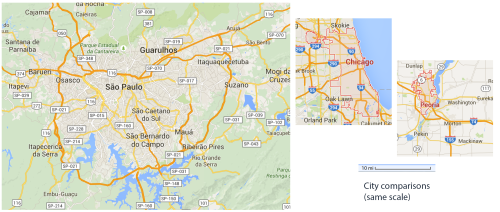 Obviously, I have a lot of great stories about the numerous people I met in the city. It was really nice of Claudir and Gabriel to visit me at my hotel the day I arrived. I am honored they took the time from their schedules to meet with me and discuss topics related to web design and development.
Now, let's look at some statistics.
259,000 visitors examined the competitions at WorldSkills (yes, I believe almost all of them walked past the web design competition). At least, it seemed that way.
8,000 delegates, competitors, and experts attended the closing ceremony.
Roughly 385,000 square meters were devoted to competition space at this event at Anhembi Park. To walk from one side of the event to the other was 1.9 km (yes, that is over a mile in one direction). They did provide bicycles (I found this out on the last day – sigh).
This is the first time the entire Anhembi complex was fully utilized. Typically, one a part is used for Samba at Carnival time.
Here are some quotes to think about – Don't ever forget that "skills development is sustainable development." Also remember that "the true test of a person's character is what they do when no one is watching." I mention the latter because this is precisely what the U.S. is doing about career and technical education. I do see this changing since we had a representative from the White House participate in our opening celebration. However, I did not see a single newspaper or magazine or television crew from the US anywhere in the event. I was interviewed a couple of times personally by a TV station in São Paulo. Our web design competitor was also interviewed and I believe was interviewed by WorldSkills also as a representative of the web design competition. Ask yourself – how much did you hear about this event at ICC? How much did you hear about this event in the Peoria area? Was there a single item in the news? The skills covered in this competition are the skills that will be needed in the 21st century. This should have been covered in depth in the U.S. It certainly was in most other countries. Ok, that was my vent. Along the same lines, where were Adobe, Microsoft and other tech companies? I only saw a presence for Samsung, Cisco, and Autodesk (and a significant presence I might add). One would think many of these other companies would see the value in being present in front of such large tech focused crowds. Hopefully, the situation will improve in 2 years in Abu Dhabi.
I am impressed with the caliber of competitors and the experts from other countries. We held a number of interesting discussions (over food and drink, of course). I also discovered I know a lot more about web design and development than I realized. I was able to help a number of individuals develop a clearer understanding of the need for accessible web pages (for example). I have observed this is simply not stressed in many parts of the world. It certainly does not seem to be taught at the same level as our CMWEB 150 class. Students taking that class should be aware they are learning a lot more than many practicing professionals know about that topic. I am hoping we can improve the competition in 2017 to include more aspects of web accessibility.
I am amazed at the amount of work the competitors were able to accomplish in the time span of either 2 or 3 hour sprints. I have posted all the challenges. Although no competitor was able to complete all the challenges (as far as I can tell), some came close. Readers of this blog post should go back to the challenges from C1 through C4 and see if they con complete them in the time frame (remember, no Internet access, and no documentation nor templates). I know I can solve all the challenges. I also know I can not possibly complete all of them in the short time frame. I type reasonably fast and I simply am not able to type the code fast enough. Any CMWEB student reading this should let me know if they are able to complete any of the challenges (there are 8 – just pick one).
As with any travel, one gains a tremendous amount of perspective. Someone once said if you stay in one part of the planet you are reading one page in a large book. If you travel to other locations, you are reading chapters in that large book. I feel that I have added another large chapter in my reading in the few weeks I was in Brasil. I encourage anyone reading this to stretch themselves and try new experiences (travel is one of my favorite activities). It adds to your confidence. It gives you a better outlook on your place in the bigger picture (and the world).
Lastly, I am thinking we will be modifying the national web design contest based on what I learned during this trip. I see the need for a number of minor improvements. I also see the need for improvements in the WorldSkills web design contest. I will be recommending those changes in the coming weeks to the appropriate parties. I do congratulate all the competitors. Whether they received a medal or not, they stepped up to the challenge and participated in a world class event. Yes, this is like the Olympics, but for career and technical skills.