Around mid-day on Sunday, November 17, a powerful storm and tornado passed through Washington, Illinois. My son and his family  lived in a house just north of town. We were watching the grandsons for the weekend and they decided to come and visit as the storm started. We are so glad they did as their entire house was demolished. This is what their home looked like when they returned to it after the storm. That is my son sifting through the wreckage. He is wearing my stocking cap (all I could find at that moment).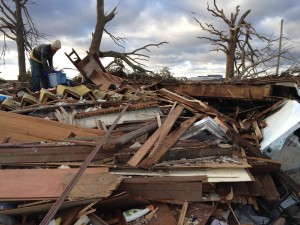 They only have the clothes on their back and what little we can salvage from the wreckage. They are now living with us. I put together a short video to describe what happened. We have set up an account for those who want to donate to help get the family back on track. We will also be doing our best to help others.For those who wish to make a donation to help my son's family, you can take one of several approaches. We have set up a PayPal account – just send your donation to DuBoisFamilyReliefFund@gmail.com. For those in the area, the Heartland Bank is accepting donations to the DuBois Family Relief Fund. Although we set this up at the branch located at 130 S. Main St., Washington, IL 61571, I think that you can use any Heartland Bank branch and just specify that you are donating to the DuBois Family Relief Fund.
Since there are 7 of us living in a small home (and a number of pets), we really don't have room to store anything. This is why we are asking for financial help so they can begin rebuilding their lives.
PayPal to: DuBoisFamilyReliefFund@gmail.com
Checks or money orders to:
Heartland Bank
Attn: DuBois Family Relief Fund
130 S. Main St., Washington, IL 61571
Many thanks for your consideration and kindness in this matter. This is the first time in my life I have asked for help, but my son's family lost everything. I appreciate anything you can contribute to help.