We just concluded our 13th national web design contest in Louisville, KY (June 21 – 25, 2016). Although I plan to post additional information about the judge's observations on our WebDesignContest.org site soon, I thought it would be appropriate to discuss some observations and insights I made regarding the tools being used by competitors.
Each state provided a team (one web designer and one web developer). There were a total of 27 states represented in the competition for secondary (high school) students. We held a separate competition for post-secondary students and 10 states were represented in that competition. Each team had to win first place in their respective state in order to compete in our national contest.
In terms of operating systems used, the split was the same as in previous years.
Post-secondary Mac- 30%
Post-secondary Windows – 70% (of the versions, Windows 10 predominated)
Secondary Mac – 35%
Secondary Windows – 65% (of the versions, 49% used Windows 10; 37% used Win 7)
What I found most interesting was the range of software being used. Here are my observations.
One team was using Adobe Experience Design Preview (Xd).
Dreamweaver was used as the code editor of choice by the majority of teams (but there were many different versions).
Photoshop and Illustrator were used for image manipulation by the majority of teams.
Fireworks was used by 15% of the secondary teams. Yes, that Fireworks.
Flash was used by 11% of the secondary teams. Not one of the teams called it by the new name Animate CC. Adobe – this might be worth noting.
For those who are curious, here is a quick graphic representing the predominant code editors. Dreamweaver and Brackets predominate over the others (Atom and Sublime). Surprisingly, a number are still using Dreamweaver CS4 and CS6. For example, in the secondary competition, there was approximately a 50-50 split between CS6 and CC versions.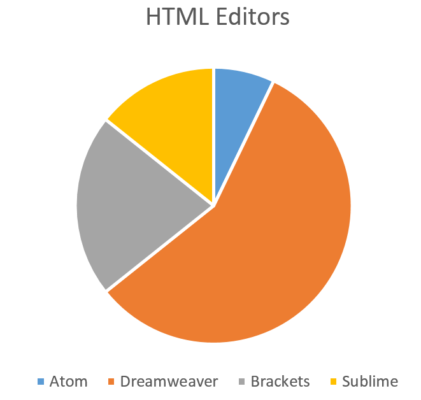 From an image editor perspective, Adobe products predominate. Most teams used either Illustrator or Photoshop or a combination. What I found most interesting was the continued use of Fireworks. Yes. It is 2016 and yet some teams relied on that tool to accomplish many tasks.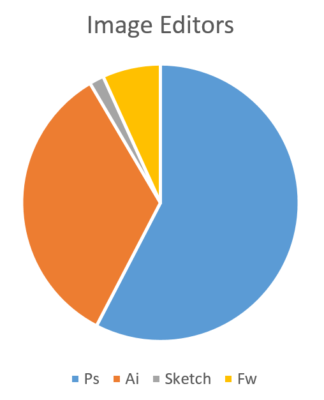 As mentioned above some teams used Flash. Their development was done in Actionscript, not JavaScript. Keep in mind this is 2016 and Flash plugins will not display in various browsers (such as those on iOS devices).
My Insights
I am probably speaking the obvious, but it definitely appears that many students in various educational situations are not being exposed to modern technologies.
I found this particularly evident when the tool was named Flash CC (instead of the current Animate CC name). I was bothered that some teams submitted their work (since we specifically asked for the work to display across mobile devices) containing .swf files. This reinforced to me that current industry "best practices" are not being taught. Please don't interpret the above statements as my "picking on Flash." Far from it, I still teach HTML animation and rely on Flash extensively. That being said, I strongly encourage students to export as HTML 5 compatible objects (so their work can be displayed across the majority of devices – including mobile).
The fact that Fireworks is still being used also tells me that current industry "best practices" are not being taught. Yes, I was a big proponent of Fireworks (back in the day). However, that particular tool has not been updated in quite a long time (and I suspect it never will be). Those students who have skills in the use of Fireworks would need to rapidly adapt to alternate tools when they enter the world of work these days.
It would also appear that the use of Creative Cloud by educational institutions is not as prevalent as one would hope. As I mentioned earlier, there was a rough 50-50 split between the use of Dreamweaver CS6 and the latest version. I also observed small numbers of teams using Photoshop CS3, CS4, CS4, and CS6. Yes, CS3. In 2016. I suspect that part of the reason for this is the limited funds many school have to update software these days. However, it heightens my concern that students are not learning technologies they will be working with when they enter the work force.
For those who are curious, we also observed the use of tables for design of web pages. No, not for tabular data, but for design. Again, I fear some students are not learning skills they will need when they enter the work force.
I do plan to post additional comments about the entries in our national web competition soon at our WebDesignContest.org site. However, I thought readers might be interested in these initial observations about the software used.
I look forward to your comments and insights regarding these observations.