On Monday, May 2, 2016, my LIX 3D printing pen arrived. At long last. I ordered this on August 24, 2015.  I was notified it was ready to ship on March 25, 2016. It shipped on April 25, 2016. Overall cost was $154.95 (including $15 shipping). Now that I have it, here are my initial thoughts.
It is definitely not a toy (the tip heats to over 200°C in roughly 1 minute).
Since it shipped with only the ABS (high temperature filaments), there is a noticeable petroleum smell while using.
It requires a very steady hand (mine is less steady than I thought).
I wish the included power cord was a bit longer (yes, I am presently using an extension cord).
It requires the proper surface to place/ hold a starting point (or the resulting materials will move and curl).
Let's examine this device in a bit more detail.First, this is what the device looks like (when it arrives in its shipping box). The cords and instructions are under the top compartment which only contained the pen.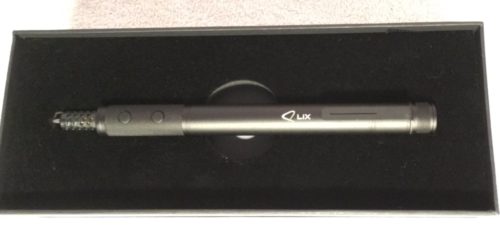 The following diagram is copied directly from the Lix Pen website. I want to  touch on some of the capabilities (and this diagram is very helpful to explain how the pen works).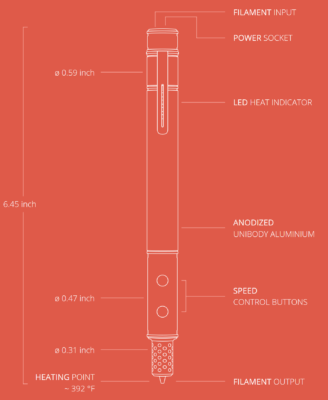 First, you do have to plug the device in (given the high temperatures this operates with, I suspect a battery powered version is out of the question). The power connects at the top (right next to the filament input).
There are two types of filaments (a lower temperature PLA filament which is subject to moisture, and a higher temperature ABS filament). When you first power up the pen, you see either green or red LED lights. You press the lower speed control button to set the temperature to ABS (which will display red LEDs); the upper button sets PLA mode (which will display green LEDs). It takes about a minute to reach operating temperature (very hot). There is an initial smell and a little smoke during the first use.
The pen comes with one filament already inserted. You add more as needed. Although the instructions tell you to insert the filament until it is grabbed by the internal gears, this does not happen if there is still part of the previous filament present (at least in my version). That being said, gravity is not just a good idea, it is the law (and the filament seems to glide into place until the gears catch hold of it).
Once operating temperature is reached (4 LEDs are glowing), you can then extrude the plastic either slowly or more quickly. The bottom button is for a fast extrusion, the top button is for a slower extrusion. Note that just sitting, the filament will extrude a bit once the operating temperature is reached.
These are my first attempts at using the pen. Did I mention a very steady hand is required. It takes a little practice (and one needs a proper starting material (paper or wood) to hold the initial starting point. If not, the filament extrudes as a series of curls and is difficult to control.

I plan to experiment with various materials, but I have found balsa wood is a good starting media to hold the initial dot. You can also see that a little trimming is needed after the doodles were created.
The output does seem to be rather durable and returns to the printed shape when distorted a bit.
I note that refills cost $10 for 40 straight rods (each 8 inches long). Shipping is extra. I suspect it will require a fair number of these before I am comfortable using this.
I do note the nozzle cools rapidly (it is mostly aluminum). Obviously, you need to have it completely cool before returning to the shipping container. I left the rod in the unit as I don't see the need to remove it each time. If you do want to remove the filament, you need to hold both the slow and fast buttons at the same time.
Overall, I like the feel of the device (much like a pen). As I indicated, it will take some time to get used to creating items in this manner. I think the initial concept of turning a "doodle" into something is the main benefit of this device. No need to use tools like Photoshop. Of course, the results are much more "organic" (polite way of saying crude – at least in my untrained hands). That being said, I can also see how this device can be used to create objects which would be difficult to model first in a tool like Photoshop.
I do hope the price comes down a bit over time (I realize this was initially a KickStarter project). I realize that I will need to go through a couple of boxes of filaments until I feel comfortable using the pen for actually prototyping something (or making creative 3D drawings).
I plan to do another post after I have used it for a while. However, you now know my initial impressions of this device. I believe it definitely has a place in my set of tools for creativity.