As many readers know, I have a number of Apple devices (in addition to Android devices and Windows devices). Apple recently released iOS 8 and I thought it might be appropriate to share some of my experiences. I know many others have also reported on similar issues. This is also my attempt to determine whether others have experienced the issues I have experienced. I am really seeking feedback. For those who only want the Cliff Notes (short) version- I would hold off on upgrading any critical device (like a phone) until there is a solid track record that the latest updates won't break anything. I have installed it on a couple of iPads, but that is all. Let's see why I recommend holding off.
First, I don't see any compelling reason for the upgrade. Yes, there are a number of wonderful new features (health and fitness settings, new keyboards, adding your voice in a text message, and so forth), but I don't plan to use most of those. Yes, I will likely use Family Sharing and take advantage of the new features in iCloud Drive. As I learn more about the new features, I may well decide that this is a significant improvement.
Those features which I do use seem to be full of bugs. For example, I have a lot of photos on my iOS devices (go figure). After upgrading my iPad Air to the latest version, I checked my photos and discovered that I had a limited number of photos in a folder called Recently Added. Ok, great, where are the rest? Here is my solution. Perhaps others have found a better solution. I had to create a new album (called Old Camera Roll). Once I opened the new album, I had access to all the photos. I simply selected all and placed them in this new album. Perhaps this functionality will be restored in a new upgrade (I see my phone is telling me that iOS 8.0.2 is now available as I write this). This is what my photos look like now. Item 1 is the Recently Added album (which is marginally useful to me as I typically liek to scroll through a number of my photos). Item 2 is the new album I created to access all my older photos. Frankly, I need to better understand what is being done with these changes to photos. I don't typically organize everything into albums and this seems to be forcing me to do just that.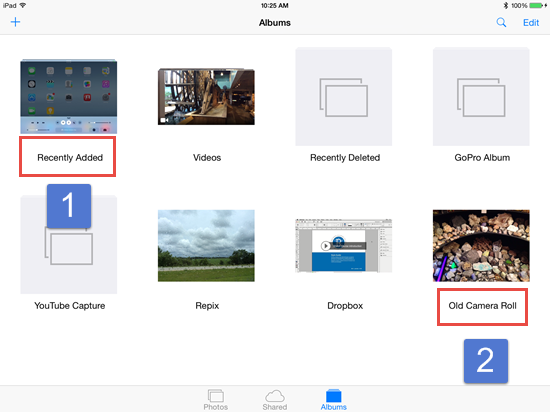 Second, it appears that many individuals are experiencing problems with text messaging, cellular service and the fingerprint recognition on their devices after they upgrade. Seems that this is continuing for Australian users with 8.0.2. I rely way too much on my smartphone to not have access to the cellular network. The risk is simply too great for me to upgrade at the moment.
As a helpful rule – it is always a good idea to upgrade your device (often there are fixes to security exposures and other required enhancements). However, it is also good practice not to immediately jump on an upgrade. It is better to wait a week or so to make certain all the bugs are worked out. In this case, I may wait a couple of weeks. We have gone through iOS 8 followed by ios 8.0.1 (which was then recalled), and are now at iOS 8.0.2 (which some are reporting does not fix the problems it is supposed to fix).
So, with all that being said, there are some nice interface improvements that I do like on the iPad Air running iOS 8. First, when you double tap the home icon, you are presented with more options (in addition to being able to switch between running applications).  This is what you see (yes, I blurred the names). I can immediately get in touch with my recent contacts.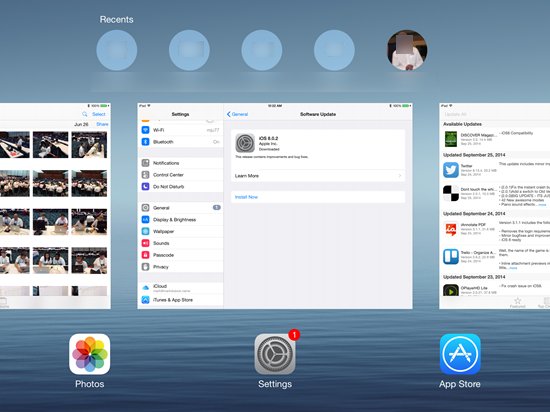 I tap on one of the choices and I can then send them a message. The screen capture is below. I highlighted the message option below.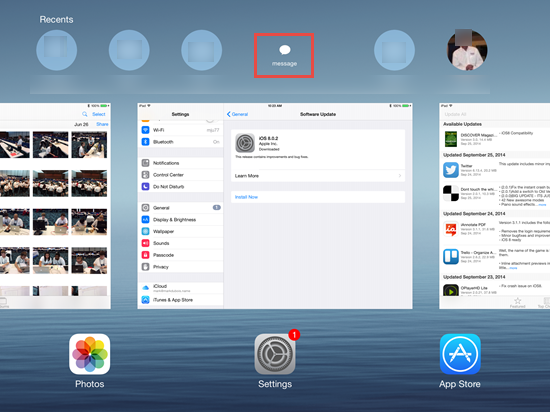 Another nice feature which I like is the ability to do a more comprehensive search. When I pull from the top, I now have the ability to search many places (including the WWW) for the item I seek. In the example below, I ddi a search for ants and you see a number of locations are found. I can also scroll through many additional items on this page.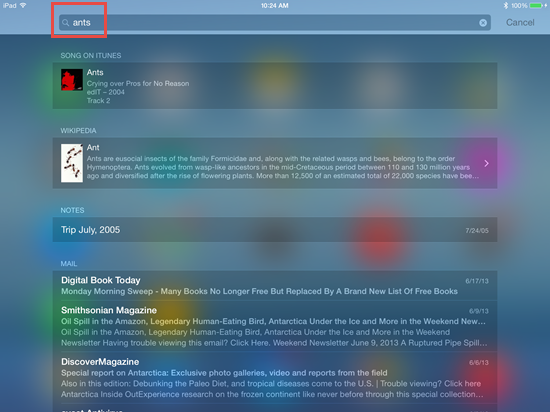 Ok, I realize I haven't gone that far into the improvements. Perhaps I will report on why they are so helpful in a future weblog post. However, I am just cautious about upgrading until I see a proven track record that these enhancements are worth the risk of potentially affecting my cellular or text messaging options.
I am most curious as to the experiences of others. Have you found compelling reasons to upgrade your critical devices? Have you experienced different problems or was the upgrade smooth for you. I look forward to your comments. Please help me understand why I should upgrade now.