Adobe released a new app for the iPhone [Post] on December 17, 2015.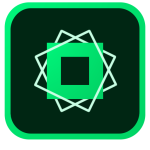 At the moment, this seems to be iPhone specific (I tried it on my iPad and was not pleased with the results – for example, it was very difficult to edit the supplied example text). On the surface, this seems to be quite a simple app. In many aspects, it seems very similar to the iOS app Over. Essentially, you select a photo and can overlay it with text and apply some filters. Yep, lots of other apps do the same thing. So, why a separate weblog post [pun intended] on this app? While it appears simple on the surface, there appears to have been a lot of work behind the scenes to make this a very useful app (particularly for those of us who are graphically challenged – like me). I find the supplied examples already have identified the font, color and so forth that a more professional individual would select. This allows me to quickly focus on the message, and not worry about the overall look and feel. Someone has already done that for me. Let's investigate this app a bit more –
When you first open the app (after signing in to your Creative Cloud account), you are presented with a screen like the following: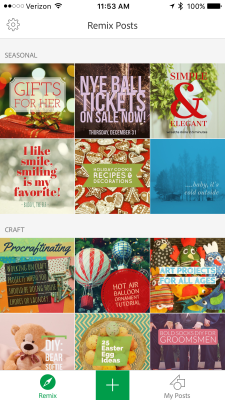 As you can see, you have the ability to remix existing posts, edit those you have already created (or create a new one – the plus icon at the bottom). I understand that the seasonal posts provided will change during the year. As I started to work with this app, I selected one of the existing posts for a remix. One simply chooses a starting Post and modifies it (in my case, I already changed the words by tapping on them and editing). Let's look at some of the initial capabilities (I numbered them below). Obviously, if you tap on the text, you can edit it.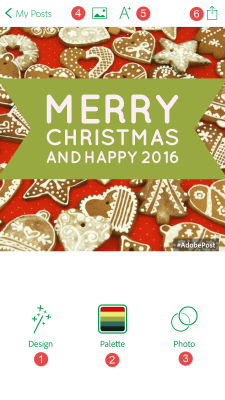 You can change the overall design [1], the color palette [2], apply various photo filters [3], select a new image [4], add more text [5], or save/ share the result [6]. Ok, so what? This is the part I like about this app – especially with the samples – the choices of font, colors, and so forth are already done for you (by someone with a much better understanding of graphics and design than I have). For example, I can simply change the above text and save it to my camera roll. It took me less than a minute to generate what I find to be a rather nice image with my desired message. Many similar apps I have tried present me with a wealth of options, but I have to make initial choices throughout (and that is the part I find maddening).  Since I am graphically challenged, I like that someone has made preliminary choices (yes, I can change them if needed). Seriously less than 1 minute to generate the image below. This means I can quickly place images which are more engaging into my social media stream and other activities. To me, this is a prime reason for using this app.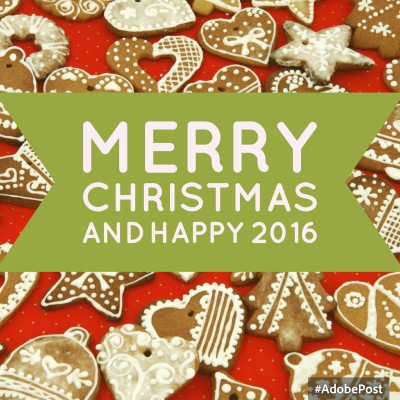 I can also choose other images (from a variety of sources). I do find it curious that while I can pull an image in from Adobe Creative Cloud, it does not presently seem possible to save the result back to Creative Cloud (perhaps I missed that somewhere).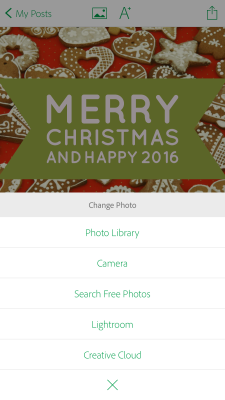 I find the interface very intuitive. If I want to change the design or apply a filter, I can just tap and swipe to see various options. In this case, I have selected the existing text and can modify it from the choices below the image.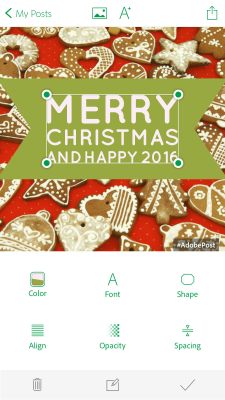 Working on another post, I can change the color palette.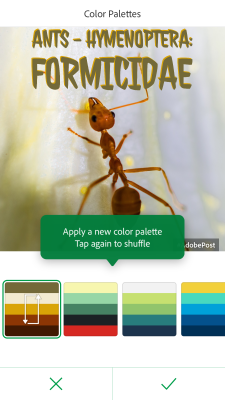 I can change the layout, color, design and filter quickly. I know other apps (like Instagram) allow for some changes (such as photo filters), but I like the ability to change so much more and modify it as desired.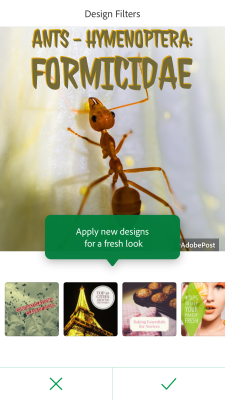 Overall, I find the app very easy to use. And, I like the results. I make the assumption this is an early version and there will be many improvements. Right now, there does not seem to be that much to differentiate this app from similar ones (like Over). Here are some improvements I would like to see.
Availability on more platforms (including iPad, Android phones, Android tablets).
Built in ability to cite where "free images" came from. This is what is done so well in Voice. I would like to see that capability here also.
Ability to save your work in various sizes/ formats (perhaps I want to create a poster or something else on a different scale than the defaults).
Ability to save your work to the Adobe Creative Cloud.
Integration with other Adobe mobile apps (such as Capture).
I am curious if you have tried this app and what your thoughts are. As always, I look forward to your comments.